From CN Rail's Kansas City Southern deal, to consolidation in ocean shipping, to port congestion sapping capacity, to shipping's impact on the environment, to strong air cargo demand, we've got a lot to unpack in this week's Roar. 
Congestion and some inconvenient shutdowns have put North American railroads in the news for all the wrong reasons recently. It's brought to the forefront how important this overlooked mode is when it comes to global supply chains. This is especially true when long-term issues like the driver shortage continue to impact the available domestic truckload capacity. An additional setback the Canadian National Railway (CN) recently experienced is in regard to its $33.6B bid to merge with Kansas City Southern (KCS). According to Transport Topics, the U.S. Surface Transportation Board ruled against allowing CN to use a voting trust to temporarily own and operate KCS, and "without that approval, transportation analysts believe the deal is in jeopardy."
There's a hot debate on whether or not industry consolidation is largely responsible for what's going on in ocean shipping right now. According to Supply Chain Dive, "the issues in the ocean market from low reliability to high prices are an obvious pain point for shippers. But it's hard to blame consolidation."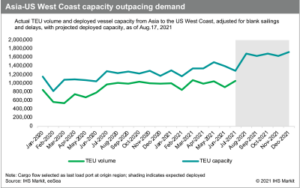 At the same time, ocean carriers are continuing to add more and more capacity and weekly service offerings just to keep up with consumer demand. Despite how overwhelmed U.S. ports are already, "container lines this month began upping their deployment of trans-Pacific capacity, with approximately 22 percent more capacity available to the West Coast through December than was available in March through July," based on eeSea's latest data.
Then, there's the matter of needing to create more sustainability within shipping. According to a report by the European Environment Agency and the European Maritime Safety Agency, "the maritime sector makes up about 14% of greenhouse-gas emissions from transport within the European Union—more than previously estimated—making it the third-biggest emitter behind road vehicles."
Finally, we have the International Air Transport Association's current data on global cargo demand, which revealed an 8.6 percent increase in air cargo growth for the month of July. To learn more about this week's top international shipping industry news, check out the following article highlights: