In this week's international freight updates, we're covering everything from the shortage of shipping containers, to the transition from ocean to air and rail, to research on supply chain risk management, to El Paso's new role in trade, to the concerns surrounding COVID vaccine distribution, to efforts to limit detention and demurrage at key U.S. ports. Well, that was a mouthful. There's clearly a lot going on, so let's get to it.
Here's our timely take on the most important issues that are currently affecting the day-to-day lives of logistics professionals everywhere around the globe:
We're sure you're already aware of the major container capacity crunch that's going on in the ocean freight marketplace. While demand remains strong and volumes soar, shippers are pleading with authorities to help them as carriers focus on backhaul empties and rates on less popular lanes climb. Thanks to Chinese regulators discouraging any further rate increases, however, prices on China-U.S. lanes have continued to stay relatively untouched for over two months.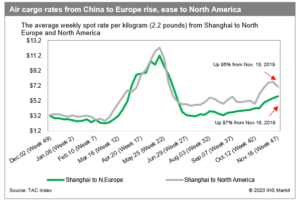 These equipment shortages are even impacting China-Europe rail capacity due to those who are jumping ship as a result of canceled sailings and rising air freight rates. According to JOC, "Rail demand is being driven by shippers balking at the sky-high air freight rates on Asia-Europe with most of the long-haul passenger fleet — source of half the available capacity on the route — still grounded. And unexpectedly high and ongoing peak season demand on the ocean trades is limiting Asia-Europe container shipping space." Let's also not forget about the significant disruptions many, especially those managing pharmaceuticals, will face once companies start distributing COVID-19 vaccines.
With their complex cold chain storage and transportation requirements, industry leaders are striving to proactively improve shipping visibility and efficiency by developing strategies that will address critical logistics gaps and stressors. Even if you aren't directly dealing with these pharma problems, it's probably a good idea to start reevaluating your shipping reliability and risk management based on the findings of a recent report on manufacturing costs in a post-pandemic world.
A topic every shipper hates is detention and demurrage and it turns out some shippers have finally decided enough is enough. A coalition has gotten the attention of the FMC and the situation at several U.S. ports is being investigated.
Last, but certainly not least, El Paso well-positioned as a key trade portal between the U.S. and Mexico. With a focus on improving logistics infrastructure, many large industry players are making big investments in the area. There is a lot going on at the border.
Want to go straight to the source? We understand. Check out the article highlights below: