In this week's Roar: mixed signs in Europe, fuel at a low point, taking initiative on climate disclosure rules, continued trade tension between the U.S. and China, and air cargo embracing digitization.
Economic improvement does not show up as a straight line on a chart, and usually includes a meandering path. Take the situation in Europe. Their service sector is booming — seeing their biggest rebound since 2009. Unfortunately, it's being overshadowed by a manufacturing sector that continues to decline. Some of Europe's issues include what's happening in the ocean market, with continued strikes in the first quarter, depots that are still overloaded, reduced demand for goods, and low freight rates.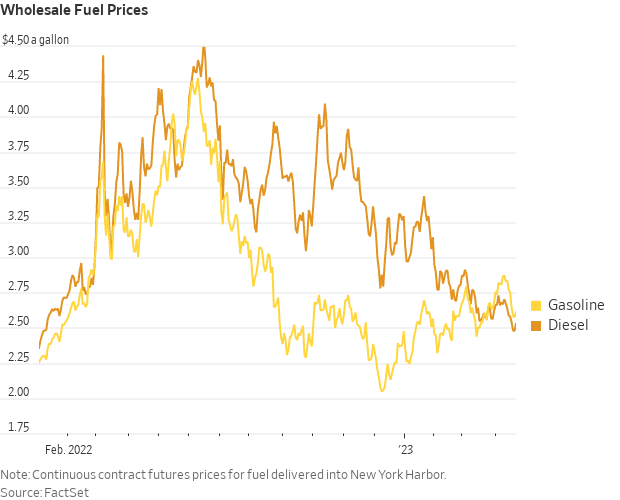 Demand for supply chain services can have a big impact on commodity prices. Benchmark diesel prices are declining after spiking in recent weeks. The latest posted price in the U.S. per gallon is $4.077, which is down 3.9 cents. Notably, this is the lowest price it's been since February 28, 2022, when the price per gallon was $4.104. Some speculate that the reason for the current decline in diesel, when compared to crude, is the economic slowdown and declining ocean freight traffic.
The industry is forging ahead with change despite a lack of regulations related to the U.S. climate disclosure rules, which require companies to report any climate-related risks and emissions data. Even without government regulations, some companies are already enacting carbon-related goals, while others are feeling pressure from eco-conscious consumers and a variety of other groups. Commendably, these companies aren't waiting for rules and regulations around greenhouse gas emissions to become official and are holding themselves accountable regardless.
Trade tension between the U.S. and China continues, and it seems neither side is gaining ground. This is not a new story, of course, just one that won't go away. Thanks to the chaos brought on by COVID-19, many in the industry were already taking steps to nearshore their supply chains. Add to that a slowdown in the global economy and now geopolitical issues between the two countries, and global trade continues to be reshaped.
In air cargo news, the sector is pushing its customers forward — forcing them to embrace digitization. The industry in general has taken its time when it comes to moving to digital processes. For example, many are still using paper AWBs despite the fact electronic versions have been available for more than a decade. Given how much more labor-intensive the manual process is, some carriers have begun to implement a fee for those who continue to use paper AWBs. According to the International Air Transport Association, about 15% of shipments are still accompanied by paper documentation.
For the rest of the week's top shipping news, check out the article highlights below.