In this week's Roar, we're covering Ukraine and the fall out for supply chains, stress pushing air cargo rates up, more bad news for fuel, President Biden pledging to take on foreign ocean carriers, and a renewed case for blockchain in the supply chain.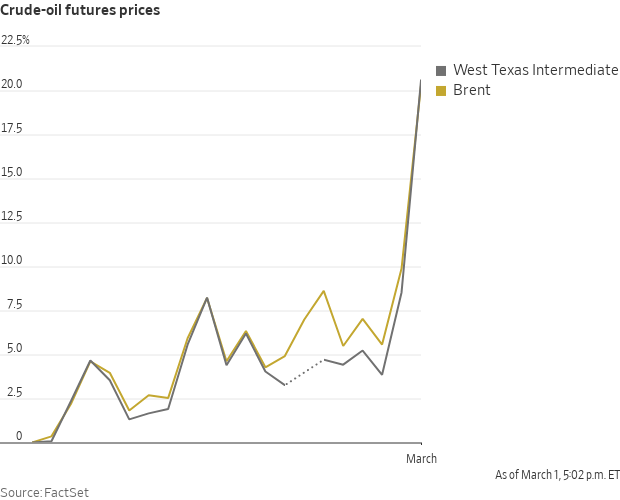 The list of disruptions that have resulted from the conflict in Ukraine spans borders and modes, and is growing.
Carriers are shutting down operations in Ukraine until further notice, including DHL, A.P. Moller-Maersk, FedEx, and UPS.
There are new restrictions on airspace announced almost daily, with air cargo freighters being rerouting through the Middle East.

Major ports have been closed to commercial vessels in Russia and Ukraine. And, a blockade of the ports in the Black sea is expected. The situation has increased insurance premiums and overall costs for freight.

The conflict could have an impact on rail freight destined for Europe since a lot of it moves through Russia from China.
In the US, commodity prices were already trending in the wrong direction for truckload carriers and shippers. With fuel prices on the rise and a lag in surcharges and spot rates, some in the industry are raising concerns. Many drivers operate on an all-in price that they either negotiated themselves or got from a broker. Regardless, there is an assumption that it will cover their fuel costs for a booking and this is just one more potential strain on capacity.
President Biden is stepping in to protect American consumers and businesses against foreign ocean carrier companies that have consolidated and formed global alliances. From the White House statement, "These companies have formed global alliances—groups of ocean carrier companies that work together—that now control 80% of global container ship capacity and control 95% of the critical East-West trade lines." The alliances, it is felt, continue to report record profits while the 'little guys' pay more for nearly everything. An agreement between the Department of Justice and the Federal Maritime Commission (FMC) against their unpredictable business—for example, canceling bookings or imposing extra fees—has been announced in hopes of putting some controls on the leverage they've gained due to their collective market share.
After years of what's felt like unfulfilled promise, many are still holding out hope that blockchain can prove itself as a valuable tool for the supply chain. As Alejandro Tornero, general manager of OARO Eco-NFT states, "In contrast to paper records, which fail to provide the level of traceability and security required, blockchain is hard-wired and has the efficiency, transparency, security, and risk mitigation capabilities that can't be achieved by other systems." The fit for blockchain seems almost too perfect for the shipping function, so we'll continue to watch the technology with interest.
For the rest of the week's top shipping news, check out the article highlights below.