In this week's Roar we have competing forces making waves in all directions, including higher (and still growing) fuel costs, strong import volumes, a positive in a sea of negativity, rising commodity prices in Asia, and the US Department of Transportation trying to tamp it all down.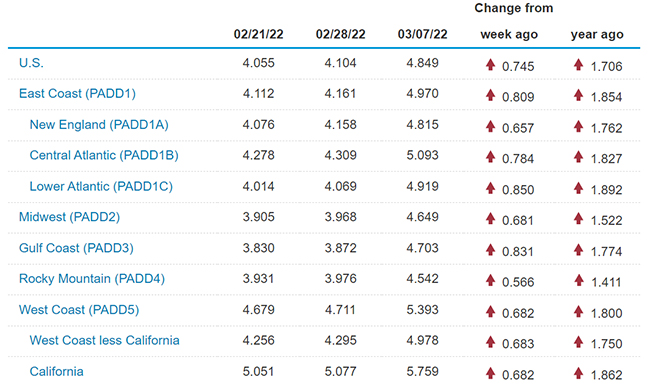 The combination of skyrocketing bunker prices, including Low-Sulphur increasing by a third since the end of February. economic woes at home, and eroding consumer confidence has some in the industry predicting a drop in demand—especially on the Asia-Europe trade lane may turn out to be forces that help push things back towards normal.
Having said that, and despite a drop in growth rates in comparison to last year, retailers are concerned about domestic port congestion getting even worse through to the end of summer. Global Port Tracker said February import volumes, when tabulated, will be up 10.5 percent year over year. A month ago in the February GPT, the forecast was for an increase of 8.7 percent.
Bad times will bring out the best in good people, fortunately. There's a positive story that involves logistics and the amazing effort being put forth by many people and companies to provide aid to the 2 million refugees who've left Ukraine over the past two weeks. We'll let this article from Freightwaves tell the story (see below).
Not surprisingly, soaring crude prices are having a global impact. On Tuesday, most emerging Asian markets fell as sanctions continue to be imposed on Russia, and the US requesting its allies ban Russian oil prices have sparked fear of an energy war. This has led to higher commodity prices and increased risk of inflation plus slower economic growth for the region.
Finally, on February 24, the Department of Transportation released a report, making several recommendations for improving the current supply chain crisis. The report—The Supply Chain Assessment of the Transportation Industrial Base: Freight and Logistics—addresses building supply chains that can easily adapt to disruption. It notes several current barriers and makes 62 recommendations hoping to attain that goal.
For the rest of the week's top shipping news, check out the article highlights below.