We're Having Flashbacks … Is There Another Toilet Paper Shortage in the Works?
From warehouse bidding wars, to congested railroads, to six new ultra-large vessel orders, to Yantian's impact on port congestion, to tight ocean supply, to a slow air cargo market, there's a lot lined up in the latest issue of The Weekly Roar. First up, markets are seeing some pretty intense competition heating up for the U.S. warehouse market as companies fight for limited distribution space in the wake of skyrocketing consumer demand.
More and more bidding wars are breaking out between businesses trying to secure additional space for their inventory, and with industrial rent on the rise, we think this quote provided by Co-Founder/Managing Member of N.J.-based real-estate firm Treetop Cos. Azi Mandel sums the current climate up best:
And warehouses are not the only inland link in U.S. supply chains feeling the pain. Domestic rail networks are experiencing record volumes, with cracks appearing in the network and big demurrage costs piling up for BCOs. According to JOC.com, "In April and May, the Intermodal Association of North America reported the number of 40-foot containers traveling on rail between the Southwest and Midwest rose 45 percent compared with a year ago, 31 percent compared with the same period in 2019, and 13 percent versus 2018."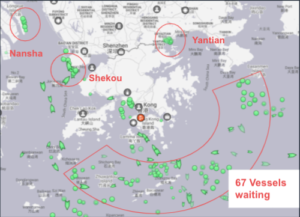 As we get reports of vessels waiting up to 30 days for unloading in LA, things are hopefully improving over in Asia. With news that the port has returned to 100% capacity, the backlog of ships at Yantian is still an ongoing strain on the ocean shipping market. The problems at the third busiest gateway in the world have only managed to remove capacity the marketplace already couldn't afford to lose. This, in turn, has doubled loading dwell time, tripled discharge dwell time, produced major anchorage backups, and led to surges in blanked sailings, according to Supply Chain Dive's data. 
At least shippers can look forward to the addition of six sustainable mega-vessels each capable of holding 23,500+ TEUs that Hapag-Lloyd just ordered to help keep up with high demand and modernize their fleet. Last on the list, but not least, is air cargo. According to The Loadstar, "the TAC Index is showing little change in rates, confirming indications that air cargo is – as is traditional – seeing a slow June."
To learn more about this week's top stories in international shipping, check out the following article snapshots: