In this week's Roar: no new year's rush in China, slow times for air cargo in Europe, fuel trending down, concerns over technology on the ocean, and who pays the bill for decarbonization.
China's Lunar New Year is upon us. It's a Year of the Rabbit, but it appears to only be off with tortoise-like speed. This chart from wsj.com shows just how much things have slowed when it comes to freight spend in the US in the past two years.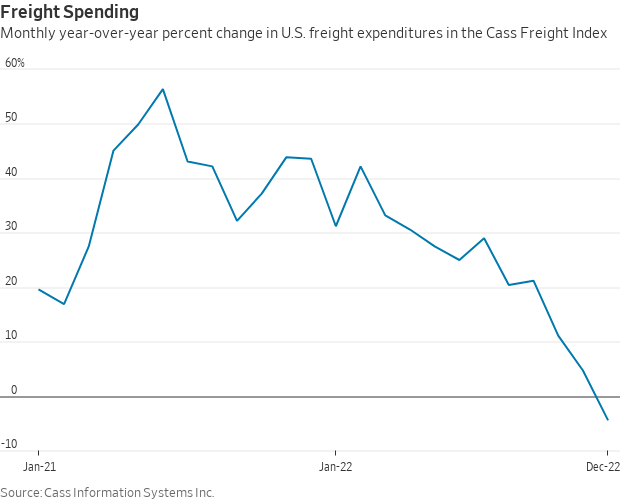 When it comes to purchasing activity, retailers still have more inventory than they know what to do with. Translation? Retailers still aren't buying at a time when there would normally be a flurry of orders before factory shutdowns began for the holidays.
Even before the crushing demand during the pandemic, the lead-up to the Chinese New Year saw a peak in volumes. In contrast, December volumes had an 8% year-over-year drop and a 13% drop when compared to 2019. This has led to cancellations in freight bookings until mid-February, so shippers are being encouraged to double-check their own plans for upcoming sailings.
When it comes to European air cargo, the skyscape doesn't look much better. It's expected to be a tough year. Frankfurt, Germany, suffered a 13.3% drop when compared to 2021. Liege, Belgium, reports a 19.3% drop, while Brussels saw cargo volumes drop by 8%. Finally, Schiphol, Amsterdam had a 14% year-on-year drop and an astounding drop of 30% on cargo-only flights in comparison to 2019.
In some good news for US trucking, the newest Department of Energy report cites a decrease of 2.5 cents in the price of diesel, bringing it down to $4.524 per gallon. But with the Russian diesel ban on the horizon, there's a question about what's really happening with the global price of crude. HFI Research had this to say in a recent research note. "On paper, you would think that Russian crude exports should have fallen by now given the EU sanction ban starting in December, but January data is flying in the face of that." The note added, "Could this just be a push once again ahead of the product ban? Maybe, but the data is far too uncertain to draw any definitive conclusion."
Some in the industry say that progress on the seas is at risk, thanks to digitalization. While many agree that advancing technological innovation is a positive move, many disagree. About half of industry professionals feel that the cost of digital transformation is too high. And even more than that—63%—are afraid that seafarers don't have the skills or knowledge to work with new technologies.
Another cost that maritime supply chains are looking at is decarbonization, which is estimated at more than $1 trillion. A cost that container lines say they will pass on, at least in part, to shippers. And while shippers acknowledge that they are willing to share some of the cost, they also don't trust carriers to honestly calculate and recover it.
For the rest of the week's top shipping news, check out the article highlights below.