In this week's Roar: containers imports still tumbling, putting the brakes on new capacity, the latest in maritime tech, trouble on the UK rails, and deciding which mode is best for the environment.
December box volumes helped drag US container imports back to levels seen before the pandemic.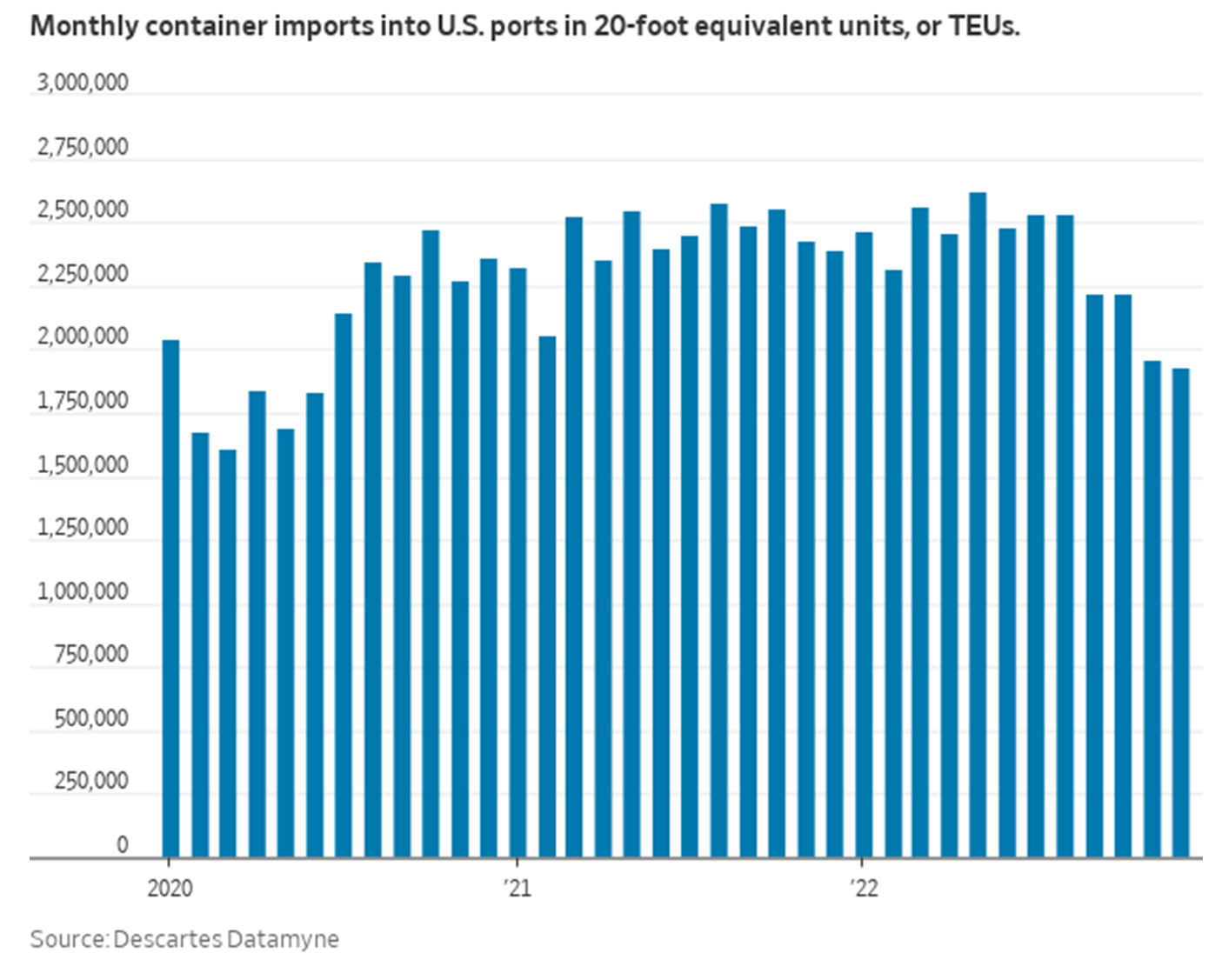 Volumes were 19.3% lower than December 2021 imports but 1.3% above the number of imports in December 2019. The reasons are not surprising: a decline in international trade thanks to an economic slowdown and increased inflation is behind the drop.
But what does the future hold? According to the Global Port Tracker report, January imports are expected to fall by 11.5% compared to last year and February by 23%. This will put imports in the same ballpark as early 2020 when Covid lockdowns first went into effect and shipping volumes screamed to a near halt.
It seems as though ocean carriers have finally seen the light. After a run on building huge new cargo ships, companies are now in talks to defer delivery dates. Procurement officers are not only halting new orders, but they're also trying to return as much leased equipment as possible—equipment they're paying huge storage fees for, thanks to empty containers sitting at ports.
In more optimistic ocean shipping news, it looks like there may be some tech breakthroughs on the horizon for 2023 according to some in the industry. What should you keep your eyes open for? The president of Wilhelmsen Ship Management, Carl Schou, feels that the time is right for making the best fuel choice for future ships. Over at Yara Marine Technologies, the talk is about wind-assisted propulsion technology. Ulrik Dan Frørup, of Bureau Veritas Marine & Offshore, feels the focus should be on "how we work together as an industry to share and make sense of data."
Moving to rail, the new year ushered in strikes at Britain's rail network. By the second week of January, the union and employers were talking, but not getting far. Deeply entrenched positions may mean months of negotiations. Traditionally, such a strike impacted passenger travel the most. However, thanks to the current emphasis on intermodal, freight has been compromised to the point of discontinuing some supply, especially fast-moving consumer goods. Evidence of this is seen on empty supermarket shelves.
Finally, the current focus on climate change is prompting a shift away from trucking. On January 10, the Biden administration released the U.S. National Blueprint for Transportation Decarbonization, which points a finger at trucks and vans being the largest contributor to freight emissions. The recommendation is for cleaner modes of transportation, such as maritime and rail. This would reduce congestion on the road and, more importantly, reduce harmful emissions.
For the rest of the week's top shipping news, check out the article highlights below.