Shippers are stuck between a rock and a hard place right now. And the only ones getting their freight on ships are those that can still reach their wallets.
As shipment delays grow out of control and shipping costs skyrocket, the critical lack of ocean containers is forcing companies to pay premium prices after waiting weeks to get their hands on the necessary equipment. Spot rates from Asia to the U.S. West Coast are up 145 percent YoY, while rates from Asia to North Europe are up 264 percent YoY, and at the center of the problem lies carriers' aggressive return of empties back East.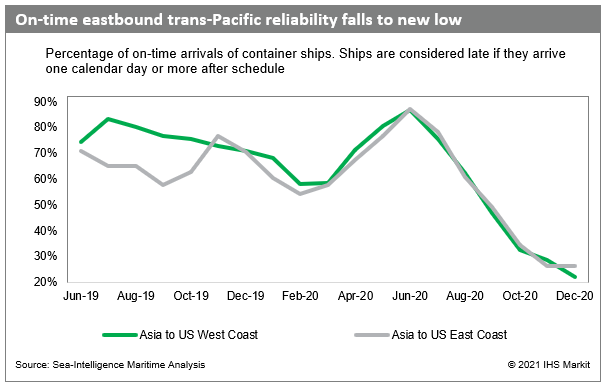 Some companies are reporting that 3 out of 4 of the containers coming from the U.S to Asia have nothing in them, and the U.S. isn't the only one experiencing this issue. Ocean carrier schedule reliability is also at an all-time low, which likely won't change any time soon if demand remains the same and the resulting bottlenecks keep clogging up trans-Pacific routes. According to JOC, the average delay for late vessels on the West Coast reached 7.99 days in December, while on-time performance fell by 70.9 percent YoY. 
Many regulators are already well aware of the situation due to the increasing number of shipper complaints lodged against low service levels and excessively high freight rates. Some hope that the current repositioning of containers will eventually lead to a turning point, especially with the Chinese New Year approaching soon. No one expected consumer spending patterns to take off like they did, and this pandemic-induced spike in demand revealed just how many inefficiencies were lurking beneath the surface.
Similar to the decline in ocean freight capacity, air cargo capacity has also dropped by 16 percent over the last two weeks in comparison to this same time last year. Despite the growth trans-Pacific trade lanes have shown, other crucial routes around the globe are still struggling to support the sustained influx of cargo demand.
To read more on topics like 17-foot wave woes and problematic box spills, check out the following article highlights: