In this week's Roar: an end of 2022 State of Ocean Freight, moving from scarcity to excess, further import declines, overcapacity in air cargo, and connecting digitalization with sustainability.
In the last Roar of 2022, it's a good time to take stock of where ocean freight is at. Despite the pandemic—and partially because of it—segments of the industry (e.g., the carriers) have been laughably lucrative the past few years. But as the saying goes, all good things must come to an end.
And in preparation for things looking to get even worse, ocean carriers—who have already needed to tighten belts thanks to lost weight—are preparing to tighten them even more. Declining profits and demand has led carriers to cancel over 100 sailings between Dec. 12 and Jan. 15.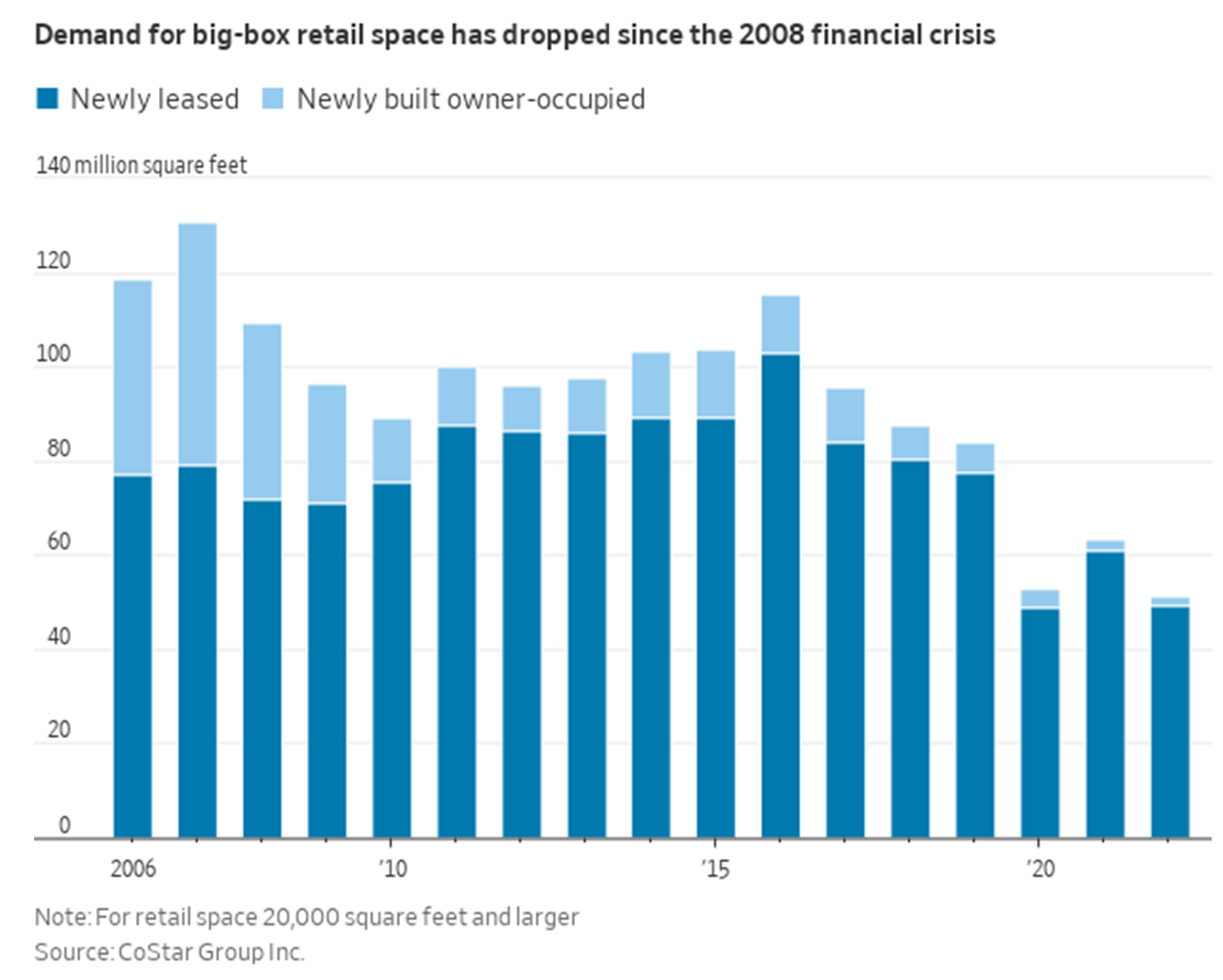 There was an upheaval in the flow of trade this year since many retailers prepared for the holidays back in the spring. That means there's still a lot of inventory to be digested. Maybe once it's worked its way through the system, there can be a return to a normal diet. From 2021 to 2022, the boom to bust was bust to boom. In 2021, retailers couldn't stock their shelves. And now retailers have more inventory than they know what to do with going into 2023.
Another sea-change for the retail industry is the shift to ecommerce. As the chart shows, this trend has greatly reduced demand for big-box retail space significantly the past 3+ years.
As of November, ports on both coasts report tanking volumes. That's no surprise on the West Coast since labor issues and congestion were already prompting carriers and importers to avoid the region if all possible. And ports there are still dealing with the resulting loss of volume. It's a different story for the East Coast ports. While they did see a drop in November, this is after months of excess, as those carriers ignoring the west headed east. To illustrate the change, the Ports of Los Angeles and Long Beach have a combined year-over-year decline of 23% in November.
Thanks to an 'almost' return to normal in air passenger traffic, air capacity has gone from scarce to overabundance. The good news is this translated into easing bottlenecks and fewer delays. However, there's a realization that this trend will probably become a new normal, not just a slide back to pre-pandemic norms. This is thanks to a variety of factors that include a looming recession, ever-increasing energy prices, inflation, Russia's war on Ukraine, the US and China bickering over trade, and China's zero-COVID policies.
Finally, one wish for 2023 is that the maritime sector adopts a more proactive approach to data management in an effort to move the supply chain to more efficient communication. One expert believes that the industry's sustainability goals and the pathway to decarbonization are directly connected to digitalization and data.
For the rest of the week's top shipping news, check out the article highlights below.