As we prepare to say good riddance to 2020 and leap into 2021, there are still no dull moments for many parts of the shipping industry. Year-end, peak season, Brexit, and the impact of the pandemic are all (hopefully) coming to a head. We'll know if this means calmer seas in 2021 soon enough.
In this week's global freight updates, we've got record-level spot rates, port chaos, a commodities slump, thousands of stranded seafarers, outrageous air freight prices, and rising market tension.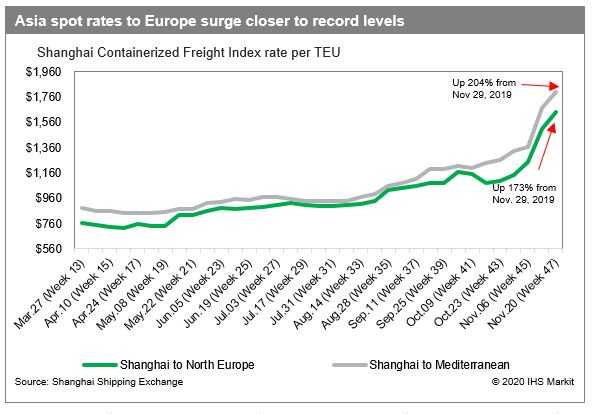 According to Sea-Intelligence Maritime Analysis, 2021 base contract rates for Asia-Europe shippers are expected to increase by 23 percent as a result of a surge in spot rates. With freight prices sitting at $2,091 per TEU, unwavering demand, and severe capacity contraints, the tension between shippers and carriers is only growing.
These conditions paired with the impending end of Brexit recently forced Honda to shut down its entire UK plant because of the country's overwhelming amount of bottlenecks and transportation delays. Britain isn't the only country experiencing some major setbacks, however. Africa's exports to China have fallen by 23.6 percent YoY due to COVID-19's impact on the nation's economy and a drop in commodity prices.
Because of travel restrictions, the cornavirus has also left roughly 400,000 shipping and transportation workers stranded on ships for over a year and a half. While agencies like the U.N.'s International Labour Organization are working tirelessly to get these people home, crew changes ultimately can't happen without additional support from countries around the world.
Ocean container shipping isn't the only sector that's facing some serious coronavirus-related issues though. As shippers race to secure air freight capacity for medical equipment like dry ice to transport the new vaccines, some airlines are quoting up to 20 times more than the average going rate for this time of year. Despite all of these struggles, one thing that's for sure is that there's never a dull moment in this business.
Check out the article highlights below to learn more: