In this week's Roar: why supply chains still aren't back to normal, more dwell fees on the way, railroads on the West Coast hit bottom, flip-flopping in the UK, and the latest report on supply chain sustainability.
Here's a good question. COVID may not be over, but, for the most part, the personal chaos it caused is (at least in most parts). So why are international supply chains still in such a state of disruption?
Historically, the supply chain experienced periodic shocks, so this, at least, is nothing new. But in each case, things eventually returned to business as usual—the shocks self-corrected. But since the beginning of the pandemic, it's been one shock after another. A succession of hits without recovery time. Maybe not a total knockout, but some might say it came too close to being down for the count. If nothing else, it's brought awareness to a lot of companies and their leaders about just how important supply chains are.
One challenge since the pandemic has been inventory management and matching production with demand. As this chart shows, inventories are piling up, with warehouse vacancy in the US at a long-time low.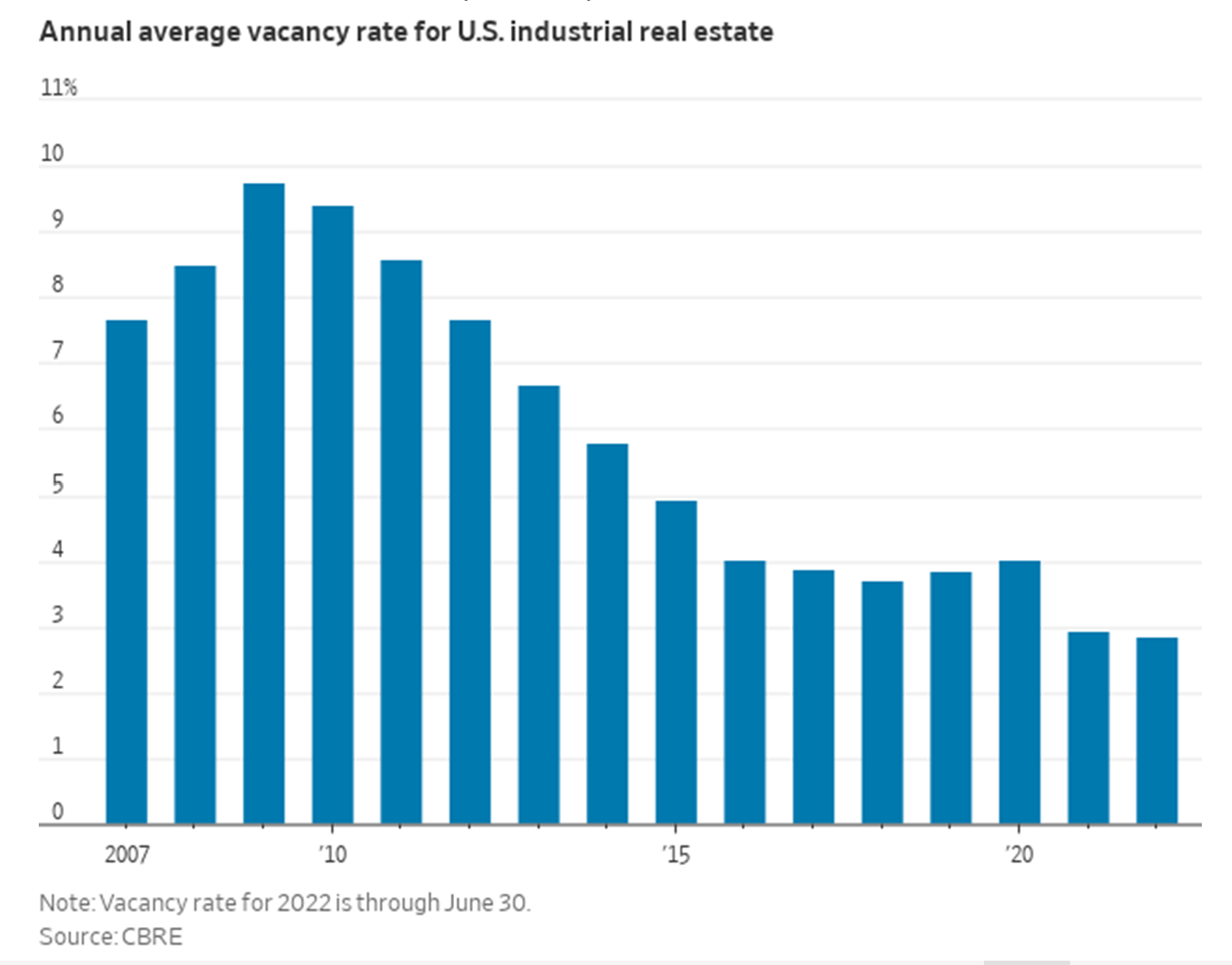 On to some key US ports. The inland rail service at Los Angeles/ Long Beach is operating at a record low, and there is finger pointing about who is to blame. At the same time rail container dwell times have reached a record high of 13.3 days in June, up from the already high average of 11.3 days in May, according to the Pacific Merchant Shipping Association (PMSA).
It seems that some port problems have moved east. The Ports of New York and New Jersey are set to start imposing similar fees on export containers that dwell too long at their ports. With peak shipping time looming, both ports are hoping to free up space for incoming containers. They plan to implement a $100 per container fee to ocean carriers under certain restrictions.
This is still pending a 30-day federal notice but is expected to be effective come September. To escape fees, ocean carriers will need to maintain an outgoing volume that must be at least 110% of their incoming volume over the same quarter. The good news for East Coast Ports is that similar fees were announced at West Coast ports last year, but fee implementation continues to be postponed.
Moving to the UK, ports there are calling for more and better industry representation after Britain scraped plans for post-Brexit border checks on imports. As things stand, no one seems to know what will happen going forward, with government authorities offering divergent advice. Making further delays in developing a workable post-Brexit border operating model almost a sure thing.
Finally, an annual State of Supply Chain Sustainability Report is out. As the introductory paragraph of its Executive Summary states, "If there is one characteristic that sums up the state of supply chains today it is the need to navigate extreme change. Our research over the last three years culminating in the 2022 State of Supply Chain Sustainability Report shows the same can be said for supply chain sustainability (SCS). SCS is a moving target."
For the rest of the week's top shipping news, check out the article highlights below.