In this week's Roar: uncertainty remains on the west coast, China and supply chain risk, AI and compliance automation, slowing global warehouse expansion, and "Fit for 55" in the EU.
It's been well-reported that the Ports of Los Angeles and Long Beach were essentially shut down due to labor issues recently. The PMA said the ports were closed because of a "concerted action to withhold labor." The ILWU Local 13 responded that no, they were just all away at a membership meeting and/or celebrating Good Friday. Weeks later, there is still uncertainty in the air as to when and if it will happen again and with more consequences. Some are minimizing the situation saying "…labor issues at the ports of LA and Long Beach are proving to be minor inconveniences, more than severe disruptions." On the other hand, it's hard to think how closing the busiest port in the country is anything minor.
There were signs of progress with talks as of late last week, however. From JOC.com, "The International Longshore & Warehouse Union (ILWU) on Thursday said it had reached a "tentative agreement" with West Coast employers on "certain key issues," but indicated a final deal on a new contract was still being hammered out by the two sides. "
Below is a chart detailing recent declines in U.S. imports by category. Consumer goods and materials lead the way.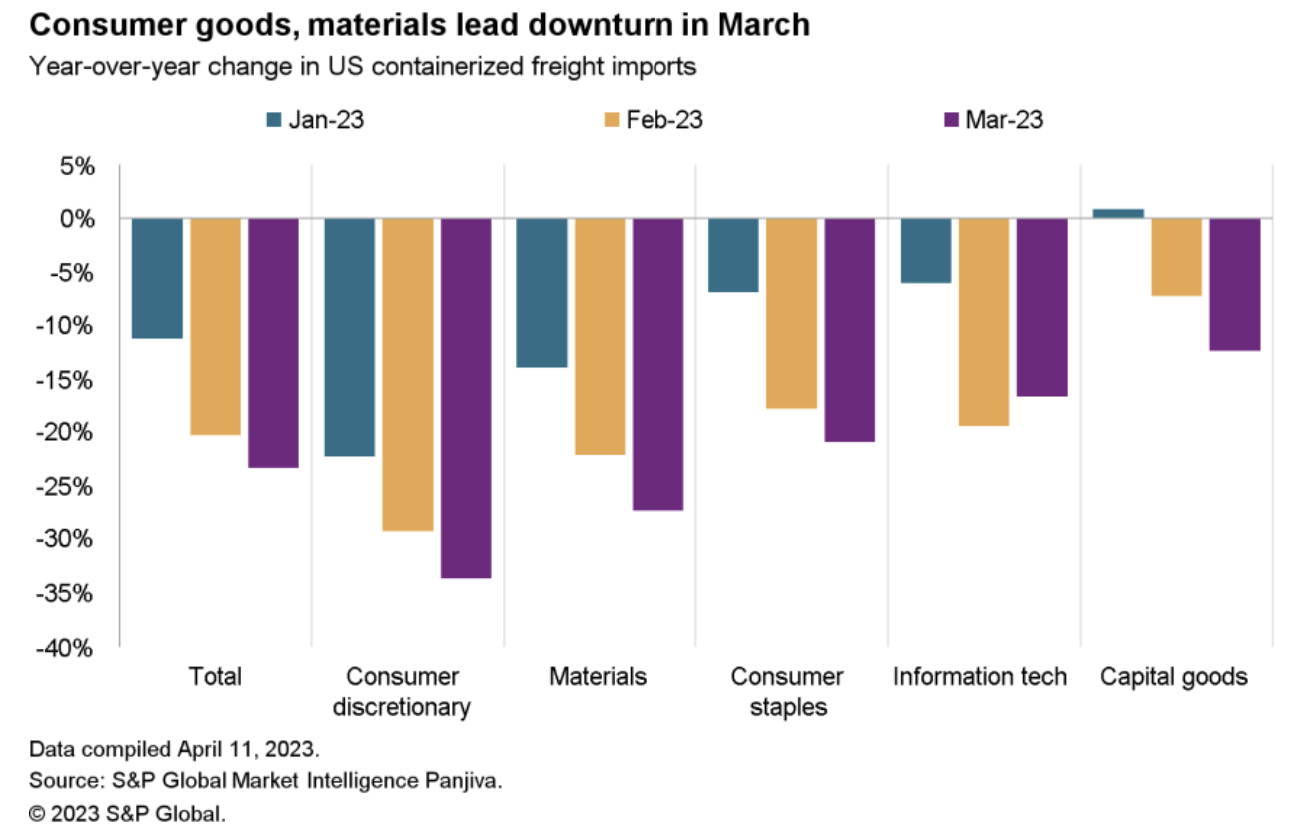 A new risk report about the supply chain seems to be calling it like it is, at least in terms of sourcing from Chinese suppliers. More specifically, it cites a 90% risk score because of China's remaining potential for ongoing COVID outbreaks and the region's method of dealing with them – meaning delays and cancellations are still probable. But there's plenty of risk at home too. The report cites risk factors such as cybercrime, skyrocketing commodity prices from Europe, and financial insolvencies.
AI continues to be one of the most attention-grabbing global headlines across many industries, ours included. "The Case for AI in Cross-Border Trade" cites a long lineup of complicated regulations—including the US STOP ACT, the UK Customs Declaration Service, and Canada's CARM importing initiative to name a few—with AI is being hailed as an automated answer to dealing with the processes involved in meeting and maintaining compliance.
Back in 2022, the industry was frantically building new warehousing to offset a huge shortage in commercial warehousing and storage space. Here we are in 2023 and construction has slowed. Globally, building is down 35% from last year despite an ongoing demand for capacity. But the economy has dampened the quest for more space, with high interest rates and an uncertain future partly to blame for putting out the fire. What does this mean for warehouse operators? They'll have to rely heavily on automation to help maximize whatever space they already have.
The EU is full-steam ahead with its "Fit for 55" emissions initiative to cut greenhouse gases by 55% by 2030. Legislation for a package that will allocate about $2 billion—at current value—to decarbonizing their shipping industry is finalized. Cargo ship owners will see a 3-stage phase-in of a mandatory "polluter pays" tax, with payment tiers increasing over the next three years. 40% of emissions in 2024, 70% in 2025, and 100% from 2026 on.
For the rest of the week's top shipping news, check out the article highlights below.