Taking On Climate Change in the Face of Disruption
In this week's Roar, we have the world's first autonomous 7MWh electric cargo ship, Maersk's $1.4B investment in 8 new carbon-neutral vessels, record-breaking supply chain disruptions, stretched U.S. inland transits, and a looming UK customs regime for exports.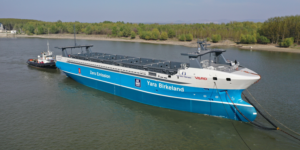 As the industry races to address its part in the rise of global greenhouse gas emissions, companies like Norwegian-based Yara International are quickly making a name for themselves as leaders of the search for sustainability. According to electrek, the company "claims to have created the world's first zero-emission ship that can also transport cargo autonomously."
Another company taking huge strides in the fight to lower emissions is actually one of the biggest names in the game: Maersk. And as we can see by the $175M price tag of the 8 new e-methanol run ships it just placed an order for this past week, the ocean liner means business.
While industry leaders like Maersk and Yara International make significant headway to help reduce shipping's carbon footprint, others keep having to put out one fire after the other—literally.  Supply chain risk is always on the minds of shippers and there is a new report that shows that growing disruption is a real phenomenon for the industry. Resilinc, a global supply chain risk monitoring firm, found that disruptions due to supply shortages (semiconductor chips, plastics, cardboard are all examples) were up 638% in the first half of 2021 based on the latest report by the company.
On top of increasing facility fires, businesses are also having to overcome supply chain threats stemming from typhoons like In-fa. According to JOC.com, there's been "a 14 percent average increase in weekly late shipment notifications from container shipping lines and Chinese ports since In-fa hit the Chinese coast and port cities July 25."
Meanwhile, UK shippers are still facing a lot of uncertainty with the approach of the impending changes to customs processes. Last Wednesday, The Loadstar reported that "from 1 October, there will be new safety and security requirements surrounding exports with an expanded list of movements requiring exit summary declarations (EXS), raising complexity in GB-EU supply chains."
To learn more about this week's top stories in international shipping, check out the following article highlights: