In this week's Roar: European ports and Asian rail freight, tensions building on the West Coast, concerns about the global economy, easing ocean container availability, and improving conditions for air cargo.
But first, Jaguar Freight Services joins the British people, as well as those worldwide, in mourning the death of Her Majesty Queen Elizabeth II. Her Majesty lived a remarkable life of public service and had an extraordinary impact on countless people around the world. Our thoughts and condolences are with the members of the Royal Family.
Port congestion in Europe continues to push demand for China-Europe rail freight. Train trips on the route have exceeded the number from last year, with a 5% increase in volume. Perishables and high-end products are helping to push those numbers up, since Europe to Asia sea freight averages 34 to 45 days, while rail only takes 19 to 22 days. Despite this, stakeholders are blaming a slowdown in the overall growth rate on the current situation in Russia. Long-term, however, rail has emerged as a viable option for moving freight efficiently between these two important regions.
On the US West Coast, the industry waits and wonders if Willie Adams, the president of the International Longshore and Warehouse Union, can bring about a deal and end the port conflict at Los Angeles and Long Beach. As things stand now, the general consensus is that current work disruptions haven't affected coastwide operations, but the longer negotiations drag on, the worse things will get. Many larger American importers have already begun to shift inbound goods from the West Coast in case talks fully break down.
In other less than positive news, the WTO Chief feels that the outlook for global trade is "not promising" thanks to the risky conditions the global economy is facing. Conditions like Russia's war with Ukraine, shipping bottlenecks, China's Zero COVID policy, and extreme weather.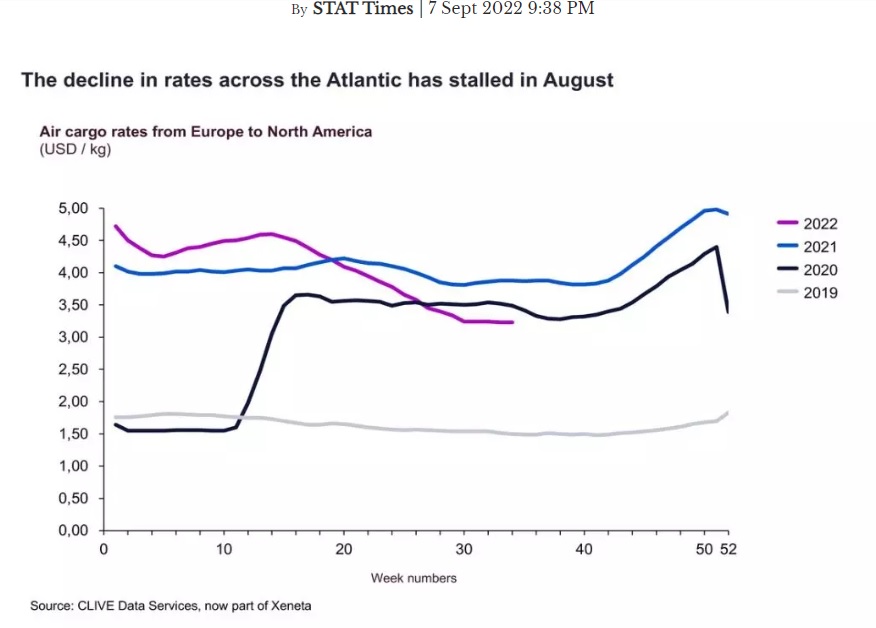 The price of new 40-foot shipping containers has dropped by 20% thanks to the current supply. According to analysts, there will be plenty to go around, until mid-2023 at least. Global container volumes increased 6.8% in 2021 while supply chain bottlenecks reduced effective equipment availability as container backlogs developed at ports and inland locations. This is one more small piece of good news that will support a global supply chain recovery.
Finally, August stats signal a better-than-expected peak season in air cargo. This is despite staff shortages in both airports and airlines and thanks to the increased international travel over the summer throughout the northern hemisphere. Additional perks include a drop in jet fuel prices—the lowest they've been since September 2021. All of this has meant an increase in volume.
For the rest of the week's top shipping news, check out the article highlights below.