In this week's Roar: disappearing volume, easing congestion (and all the positives that comes from that), calls to improve US air cargo infrastructure, and China lagging in sustainability.
Where's the demand? Peak season is here—or at least it should be. At this time of year, we're typically seeing strong demand and high import volumes, but as concerns about a steep downturn increase, demand (both from consumers and for capacity) continues to slip. And those huge profits the freight market enjoyed earlier in the year could soon be nothing but a distant memory. As the author of the Global Port Tracker report says, "The growth in U.S. import volume has run out of steam."
In a recent LinkedIn post, JOC's Eric Johnson cautioned against thinking of the decline in West Coast imports as representative of what's happening with US imports more broadly. While this chart shows how the Port of LA container volume hit a five-year low in September, there is more to the story. In the post, Johnson cites a systemic shift from West to East Coast ports that overstates that decline's importance. Reasons for the shift include the potential for labor disruption and a general change in behavior from importers. The point? The US supply chain is changing and the Ports of LA/ LB, although once "historically vital in terms of discretionally trade flows across the US, no longer define the US import landscape as they once did."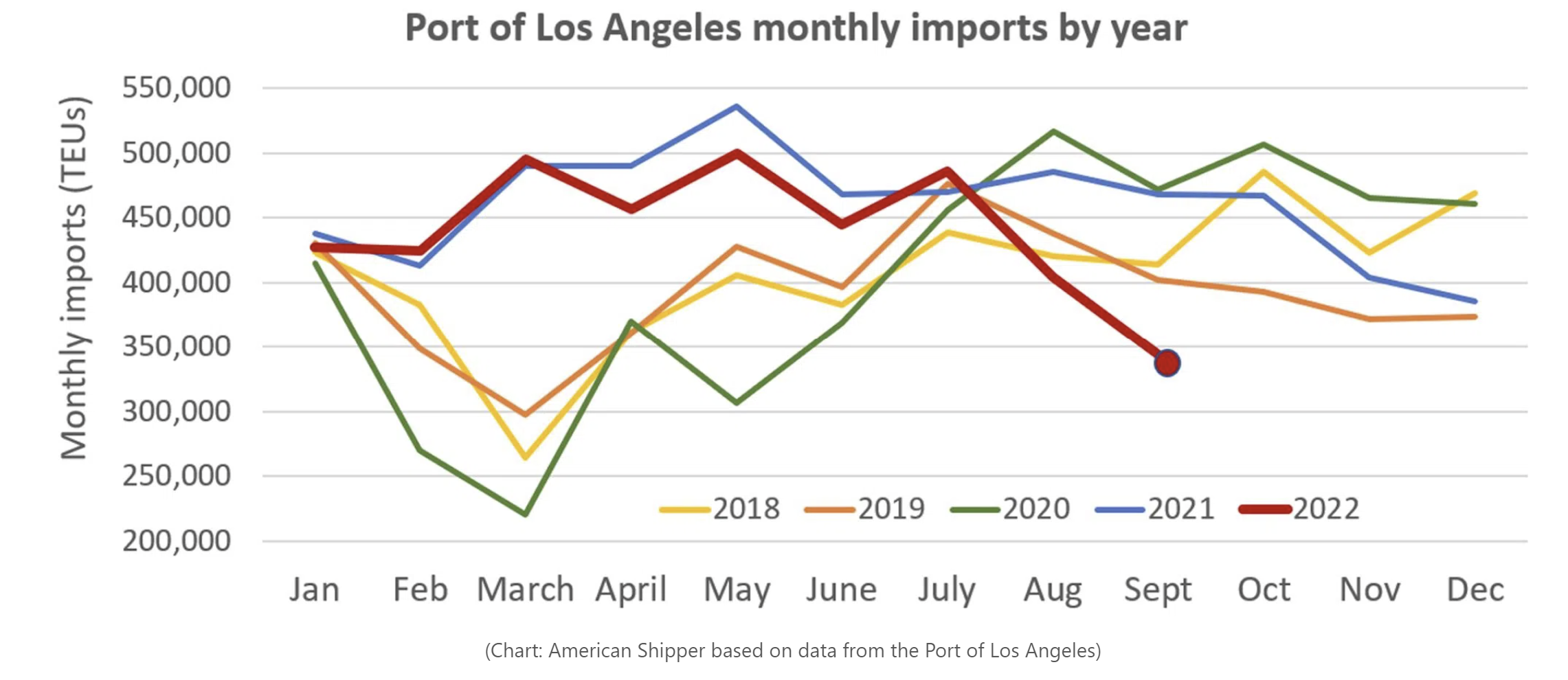 Moving to global ports, there are some encouraging numbers. The overall number of vessels at port is dropping as port congestion eases. The average number at port for the first half of the year was 32.1% of capacity, but that's dropped to 30.6%. However, this is still above the 2016 to 2019 average, which was 29.7%.
And as is usually the case, as China goes, so goes the global supply chain. An increasingly uncertain economy and waning demand for Chinese exports are leading to falling rates and services canceled. Decreased demand means less cargo, fewer containers, and an improvement in port congestion. This is a mix of good and bad… the one positive is capacity has become more plentiful.
In air cargo news, both the Airforwarders Association (AfA) and the National Customs Brokers and Forwarders Association of America (NCBFAA) are calling for an Air Cargo Support Fund. A survey of 400 air cargo stakeholders in both public and private sectors addresses the crisis the US air cargo industry's infrastructure is currently facing. Without the fund, a survey states that costs for modernization would continue to escalate, as would costs throughout all elements of the supply chain, jobs would be lost, and the sector would be unable to deal with continued environmental impacts and challenges such as global pandemics.
Finally, the World Benchmarking Alliance has released its new Transport Benchmark report, and China has ranked poorly in the report's new sustainability benchmark. This is across the board, including their container shipping, air cargo, and land transport, including rail and post. The rank is based on how well companies are doing in terms of their initiatives in addressing decarbonization. 90 companies are currently ranked, with China's State Railway Group ranking at 85, and Cosco at 77.
For the rest of the week's top shipping news, check out the article highlights below.