What You Gonna Do When the SCA Comes for You?
In this week's global freight updates, we've got a vessel under arrest, underlying causes for U.S. port congestion, solid increases in import prices, a partial strike at Eastern Canada's biggest port, and the ongoing, pandemic-induced container crisis. Up first, let's dive into the latest news in the Ever Given saga which is the Suez Canal Authority's (SCA) formal arrest of the vessel that can't seem to stay out of trouble.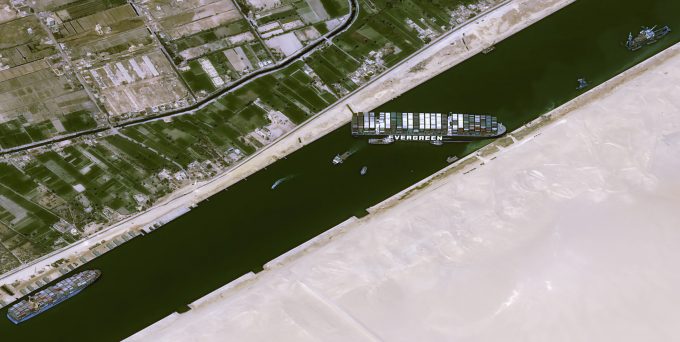 After an Egyptian judge officially released a court order allowing the SCA to seize the Ever Given last week, the SCA has announced that it will continue to hold the ship in Egypt until its $916M compensation claim is paid in full, causing quite the stir amongst the ship's managers and insurers. As a result, the vessel's charterer, Evergreen, is launching its own investigation against the scope of the claim and court order while also urging all of the parties involved to try and reach a settlement agreement in an attempt to free the trapped freight as soon as possible.
Over in the U.S., severe cargo delays stemming from the current container crunch keep plaguing the LA-LB ports with the blame largely falling on the rise in pandemic-induced demand for physical goods. However, these problems existed well before the COVID-19 breakout. According to JOC.com, "huge cost increases, limited ability to automate terminals, chronic avoidable disruption during contract negotiations, and far lower productivity and working hours compared with ports in Asia and elsewhere around the world are at the core of the issue."
While industry leaders work to fix these problems, U.S. import prices are rising higher and higher because of the limitations these supply chain constraints are placing on the pent-up demand that's being financed by fiscal stimulus checks and sustained by increased access to coronavirus vaccines. Based on Reuters' data, "import prices rose 1.2% last month after advancing 1.3% in February. The fifth straight monthly gain lifted the year-on-year increase to 6.9%, the largest rise since January 2012. Import prices rose 3.1% on a year-on-year basis in February."
And the cherry on top of all of this is the partial strike at the Port of Montreal that was scheduled to start this past Wednesday. Not only will this strike further escalate the port congestion across North America (given the projected 30% drop in the port's capacity), but it will also most likely add to the already lengthy waits and soaring shipping costs logistics professionals are encountering worldwide. At one point in time, transporting a standard 40-foot container from China used to average around $1,000, but now that there's an ongoing container crisis, some shippers and forwarders are having to pay in excess of $10,000 for the same exact space. 
To learn more about how these issues are similarly affecting European ports or to get the details of the other top stories for this week, check out the following article highlights: