In this week's Roar: COVID shows it isn't done yet, Russia's aggression continues to impact air freight and supply chains globally, and news on some governments doing their best to improve data sharing and sustainability in shipping.
The chart to the right not-with-standing (it's actually kind of encouraging), we need to hold-off on thoughts about that return to normal we keep hearing about.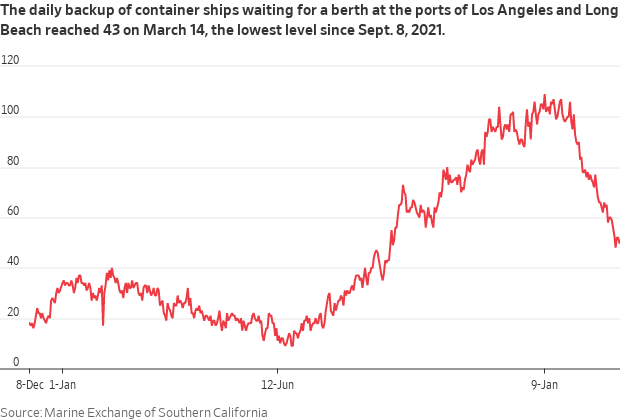 Thanks to China's biggest COVID outbreak since the beginning of the pandemic, the country has locked down two key manufacturing hubs—Shenzhen and Dongguan. This has led to a lengthening backlog of container ships at major ports.
This is not good news for a global supply chain that still hasn't pulled out of the chaos created in the last two years. Charter rates are expected to jump and shipping freight delays to increase.
As a result of the above and sanctions against Russia, air cargo rates out of China continue to soar higher, thanks to limited capacity and rising fuel costs. Rates from Shanghai to North America jumped nearly 30% per kilogram this week.
The disruptions occurring in both China and Russia are being felt around the world. Cargo from California—which has slowed down cargo arriving from Europe—is causing congestion on the East Coast. And all major North American ports are dealing with a buildup of Russian transshipment cargo coming from Asia.
Global shipping efficiency and sustainability continue to keep the attention of the US and UK governments. The Biden administration unveiled plans on Tuesday for a freight data exchange that will be coordinated by the Department of Transportation. The initiative is called the Freight Logistics Optimization Works (FLOW) and aims to exchange information between different segments of the supply chain with the goal of moving transportation logistics into the 21st century—at least in terms of digitization.
Finally, the UK government has launched a new unit called the UK Shipping Office for Reducing Emissions. Its purpose is to supplement the already successful Clean Maritime Demonstration Competition that was launched last year.
For the rest of the week's top shipping news, check out the article highlights below.