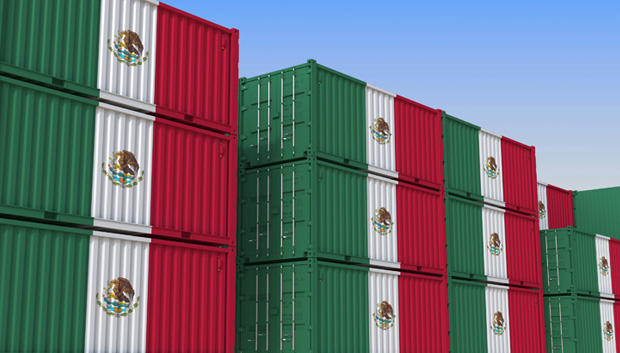 By
Nick Hammons
According to the Office of the United States Trade Representative, at $611 billion, Mexico was the third-largest trade partner of the U.S. in 2018. Only China ($737.1 billion) and Canada ($714 billion) ranked higher.
In 2019, the intersection of three circumstances points to the likelihood that trade with Mexico will increase significantly in the coming years. Those three circumstances are:
 The ongoing trade war with China showing no signs of abating
 Repercussions of the US-China trade war in Southeast Asia
 A new trade deal with Mexico and Canada on the horizon
Fallout of the US-China Trade War
The U.S.-China trade war continues with no end in sight. The U.S. recently postponed new tariffs on many consumer goods from China (including cell phones, laptop computers and toys) until after the start of the Christmas shopping season. But that postponement followed quickly on the heels of the U.S. labeling China a currency manipulator, opening a new front on what had been exclusively a trade war.
Fred Bergsten, director emeritus of the Peterson Institute for International Economics said this of the action. "The trade war has now become a currency war, and the Chinese are undoubtedly going to take further action."
Many manufacturers and suppliers have already relocated or considered moving their China operations to Vietnam, but that has prompted outcries from the Trump administration that Vietnam is an unfair trade partner. The U.S. has not ruled out tariffs on shipments sourced from Vietnam, which some observers seem as likely.
The only thing clear in the current situation is that China and Southeast Asia are becoming less stable and less inviting sources of goods and supplies as the short and long-term costs of doing business remain uncertain.
Replacing NAFTA With USMCA Promises Stability
On November 30, 2018, the United States, Mexico and Canada signed the USMCA trade agreement. Negotiations had begun in 2017 to create a new trade deal that would replace the North American Free Trade Agreement (NAFTA), which had governed trade between the three North American countries for 24 years.
The agreement has been ratified in Mexico and Canada, but not in the United States. Democrats in the House of Representatives refuse to ratify the agreement until changes are made in the areas of labor, environment, pharmaceuticals and enforcement. Objections of this type are not unusual, and have been handled in the past in several ways.
NAFTA was not ratified until two side agreements were added: the North American Agreement on Labor Cooperation and the North American Agreement on Environmental Cooperation.
The United States-Korea Free Trade Agreement (KORUS FTA) was signed in 2007, but congressional objections to treatment governing bilateral trade of automobiles and U.S. Beef Exports delayed ratification. After several years (and a change in U.S. presidential administrations), the U.S. and Korea renegotiated the agreement to the mutual satisfaction of all stakeholders. When the agreement went into effect on March 15, 2012, it became the first free trade agreement between the United States and a major Asian economic power. It was also the largest trade deal since NAFTA.
These precedents indicate it is highly likely that the USMCA will be revised as necessary and ratified by all three nations. Given the way trade in all three countries has benefitted from NAFTA, it's clear that the stakes are too high for there not to be an agreement.
One recent incident that points out just how desirous Mexico is of continuing free trade with the United States occurred when President Trump threatened to levy tariffs on Mexican shipments unless Mexico did more to stem the flow of illegal migration to the United States. Mexico responded immediately, meeting with U.S. representatives and outlining new steps they would take to help reduce the number of migrants entering the U.S. outside legal channels. As a result of Mexico's cooperation, the U.S. rescinded its tariff threat.
Once the USMCA is in effect, it promises to bring another generation of stability and cost certainty to U.S.-Mexico trade relations, something that cannot be said of U.S. trade with Asian nations today.
The timing is perfect. As was published in the Journal of Commerce last year, "(Mexico's) $1 trillion economy now has developed businesses and capital that can meet rising emerging market demand for its goods, both in the Americas and in other world regions."
Having a Partner You Can Depend On
If you haven't been sourcing goods and supplies from Mexico, getting started can be daunting, especially since shipping from Mexico has historically been associated with poor service and delays.
Fortunately, in Jaguar Freight you have a friend in the business that has successfully and seamlessly managed freight on the Mexico-USA trade lane for years.
In Mexico, as throughout the world, we've built our reputation on providing supply-chain leadership in the form of first-class logistic services. To that end, we've developed our own, proprietary, supply chain software solutions — such as the CyberChain™ software suite — and marry them with logistic experts in ocean, air, and truck freight to deliver excellence to our clients.
As our client, you have a personal point of contact assigned to you, so you always have one consistent voice to rely on no matter where you're shipping.
Three Things You Should Do Now
 Make sure your representatives in Washington know you support USMCA
 Watch for ratification of USMCA in the US
 Contact Jaguar Freight to discuss how we can meet your needs in Mexico
Given the turbulence of today's trade environment, all importers should feel reassured to see Mexico poised to become an even more prominent — and stable — source of goods and supplies.
If you're interested in learning how Jaguar Freight can help you with shipments from Mexico, contact us today.