In this week's Roar, we have another record backlog of cargo ships at key West Coast ports, NVOs profiting off disruption, high demand becoming a nightmare for shippers, an insider's breakdown of the container shipping supply chain, and the world's first fully electric freight train.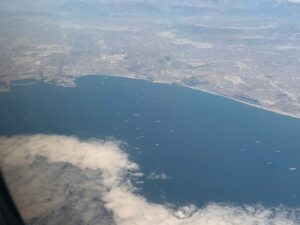 For starters, we'll touch on the line of cargo ships waiting off the West Coast that only seems to be getting longer and longer as we move further into shipping's peak season. According to the Marine Exchange of Southern Califonia, "on Monday, 97 hulking cargo ships were at Los Angeles and Long Beach ports. At the time, 70 of the container ships were at anchor or in drift areas waiting for space to open up in the port."
With industrywide shortages and intensifying consumer demand driving this building backlog, NVOs have come to control 53.1% of total eastbound trans-Pacific volume as well as experience a "spillover of new business opportunities," based on the feedback of Jaguar Freight's very own CEO Simon Kaye. And while the thought of this soaring demand once filled shippers with joy, the current reality has brought a lot of doubt into many minds as companies start to question whether or not they can get their products on shelves in time.
It isn't all doom and gloom, however. According to leading container shipping expert, Lars Jensen, "despite all the problems, 15 million TEU were still shipped in July–slightly more than the 14.8 million seen last year. Hence the vast majority of cargo is still moving." On one last, more positive note, Pittsburgh-based rail freight company, Wabtec, has managed to develop the world's first battery-electric freight train known as the FLXdrive, according to The Guardian.
To learn more about this week's top international shipping stories, check out the following article summaries, and be sure to give our new Logistics MythBusters segment a quick read.