From the world's largest container ship, to new trans-Pac services, to Brexit customs control delays, to global ship snarls, to the KCS-CP railway deal, it's time to dive into the latest in international shipping news in this week's Roar.
Up first, we have the Ever Ace's debut, which can hold a whopping 23,992 cargo units worth of capacity, according to FreightWaves. While some debate over whether or not bigger really is better when it comes to what ports can actually handle, MSC has announced that will be moving two of its trans-Atlantic vessel services to trans-Pacific trade lanes.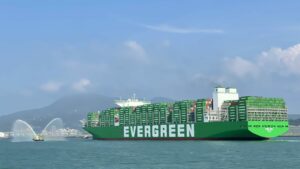 According to the Geneva-based carrier, this shift is directly "in response to the continued strong trans-Pacific market demand and to further support the challenging service schedules for [the] North America West Coast." 
Then, we have some pretty frustrated UK customs brokers who are not too happy with Brexit border control delays. One broker even told The Loadstar "this is a short-sighted and one-sided view of trade, and it is to the detriment of UK companies." Meanwhile, Typhoon Chanthu, Tropical Storm Nicholas, and Hurricane Ida have all hit the industry full force, bringing yet another string of disruptions to today's supply chains.
As a result of the compounding bottlenecks we've been experiencing, "the queue of container ships waiting to enter the twin ports of Los Angeles and Long Beach, California, rose to a record 56 vessels as of late Monday," according to SupplyChainBrain. And, the number continued to climb all last week.
Finally, there's been a new development in Canadian National's (CN) proposed merger with Kansas City Southern (KCS). With CN now backing off, KCS is all set to start finalizing a deal with Canadian Pacific (CP) to create the Canadian Pacific Kansas City, or CPKC, railroad.
To learn more about this week's top international shipping industry news, check out the following article snapshots: