From air cargo delays in Hong Kong, to the queue of ships outside key American gateways, to the unrealistic push to 24/7 operations at LA-LB ports, to impending UK border controls, to a new decarbonization initiative, it's time for the latest edition of The Weekly Roar.
It's the same story… just a different key international shipping gateway. Given a recent COVID-19 outbreak at the Hong Kong International Airport, some industry insiders are predicting transit times to increase by 2-3 days on average. According to Supply Chain Dive, "the expected slowdown brings another challenge for shippers, who already face limited capacity and high spot rates trying to move freight from Asia into the U.S. for the holiday season."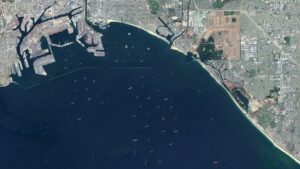 Not that any of us need a reminder, but the industry still needs to consider how the massive line of idle vessels waiting to offload cargo outside Long Beach and Los Angeles is similarly impacting shipping congestion. With surges in consumer demand, a lack of skilled labor to move everything, and inefficient infrastructure largely to blame, the backlog is likely here to stay for a while. It's about as bad as it's ever been.
And Southern California marine terminals are now "saying they will not commit to round-the-clock gates for retailers and truckers while 30 percent of existing appointment slots go unused," according to JOC. Meanwhile, the impending deadline for full UK customs declarations is quickly approaching, and it seems many European exporters may not be entirely prepared based on a report released this week by The Loadstar.
In other news, major retailers like Amazon and IKEA are among the latest to join a new initiative created by the non-profit Aspen Institute, which "sets a goal for companies to only purchase ocean freight services powered by scalable zero-carbon fuels by 2040," according to Reuters. To learn more about the top stories in international shipping, check out the following article summaries: