From unclaimed imports at major UK ports, to congestion delaying ships across North Europe and the Mediterranean, to the massive oil spill off the coast of California, to empty shelves in stores, to record air cargo revenues, it's time for the latest edition of The Weekly Roar.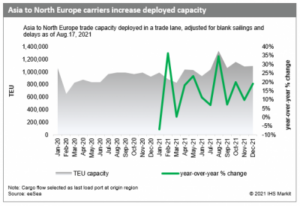 In a story that should sound eerily familiar to U.S. importers, the UK's intensifying driver shortage is exacerbating congestion and extending dwell times across the country's major gateways. Some ports are "starting to refuse the restitution of empty boxes urgently needed back in Asia," according to The Loadstar. And despite carriers adding more and more deployed capacity on Asia-Europe trade lanes, the extra space is proving to be no match for the significant congestion across North Europe and the Mediterranean.
Meanwhile, the major oil spill that recently occurred off the coast of California may be linked to one of the ships stuck in the long line of vessels waiting to enter San Pedro Bay. According to FreightWaves, "members of the response team didn't outright blame one of these ships for weighing anchor, dragging the pipeline, and causing it to puncture. But there was little other way to interpret what they said."
Scarier yet, but not surprising to those of us involved in the supply chain, is the sheer scale of these supply chain disruptions and traffic jams. Many industry experts are issuing warnings that we're going to be seeing a lot of empty shelves this holiday season, based on Supply Chain Dive's latest findings.
As a small positive, the air sector and global airlines are doing pretty well for themselves considering the IATA's projections of cargo revenues reaching "a record $175 billion in 2021 with a marginal decline to $169 billion in 2022." 
To learn more about this week's top international shipping industry news, check out the following article highlights: