Industry Grapples With Systemic Issues at Its Core
From record container ship queues, to skyrocketing cargo thefts, to extreme shipping consolidation, to rising air freight pressures, to a misleading driver shortage, it's time for the latest edition of The Weekly Roar.
As of last Tuesday, there were a total of 111 container ships waiting off the coast of Southern California, according to data from the Marine Exchange. Despite the hefty fines the ports of Los Angeles and Long Beach recently introduced and the White House's efforts to transition to 24/7 operations, it seems little progress has been made in clearing the U.S. West Coast's significant backlogs.
And to make matters even more complicated, these lengthy vessel lines have contributed to a huge spike in cargo theft cases. According to Container News, "cargo theft worth U.S. $5 million has been recorded along the U.S. West Coast," in Q3 2021 alone, marking a 42% YoY increase.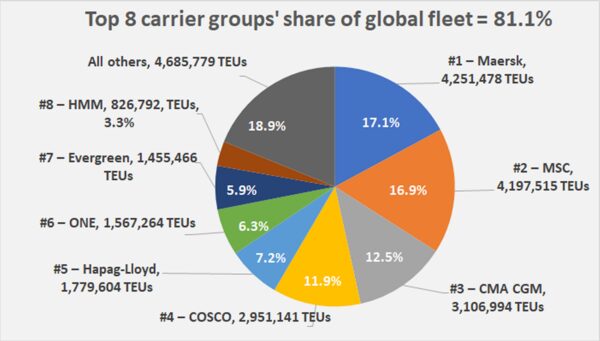 One factor that's definitely not helping the current situation is the extreme ocean shipping marketplace consolidation that's been taking place behind the scenes over the years, based on FreightWaves' latest take. With "just 16 companies — eight liners, three factory groups, and five box lessors — that control over 80% of container-ship capacity, box-production capacity, and box-leasing capacity," those in charge stand to gain a lot more from the persistence of today's excessive freight pricing.
Then, we also have the air sector struggling to manage a chaotic combination of COVID-19 restrictions, capacity limitations, labor shortages, and high demand, according to The Loadstar. Over in the U.S. domestic trucking sector, Quartz is reporting that "the real shortage is of good trucking jobs that can attract and retain workers in a tight labor market" rather than a broken labor market and lack of willing workers. 
To learn more about the international shipping industry's leading headlines, check out the following article summaries: