In this week's Roar, we have the "Shanghai Express" freight train, Singapore's new mega-port, the aftermath of Vietnam's lockdowns, UP's suspension of receipt of westbound boxes at LA-LB, and the latest fees aimed at clearing cargo.
With all the global logistics disruption that's been going on, the expansion of rail services between Europe and Asia comes as a welcome relief. According to Xinhua, "the first 'Shanghai Express,' carrying 50 containers loaded with apparel, auto parts, and solar panels, traveled more than 10,000 km before arriving in northern Germany," from Shanghai last Tuesday.
Singapore is also jumping on the expansion bandwagon with an early opening of the container storage area in its new, highly anticipated mega-port, based on a recent report by The Loadstar. While we wait for the mega-port's operations to be fully up and running, this move will hopefully help reduce growing container logjams and improve ocean shipping schedule reliability in the meantime.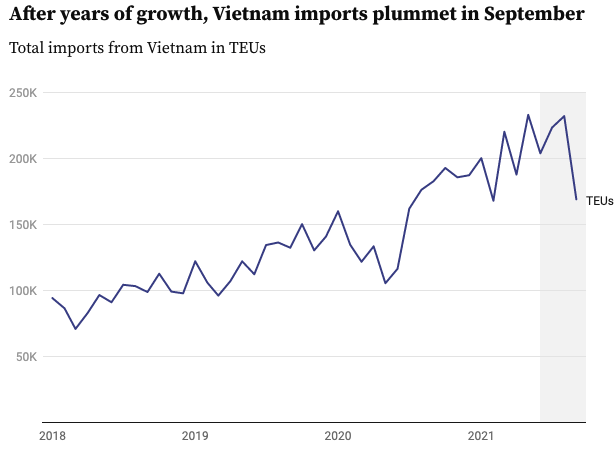 Vietnam, on the other hand, has a long road to recovery after finally ending one of its longest lockdowns at the beginning of this month. According to Supply Chain Dive, "four months of increasing restrictions meant to abate a deadly pandemic took a toll on the country's people, economy, and business partners," resulting in rising dwell times, plummeting imports, and elevated risks.
In the U.S., the challenges on the West Coast continue. Union Pacific Railroad "is suspending receipt of intermodal containers sent from rail ramps in the U.S. interior to its near-dock Intermodal Container Transfer Facility (ICTF) in Los Angeles-Long Beach for up to seven days," according to JOC. On top of this, Supply Chain Brain reported that LA-LB ports will now be charging ocean carriers $100 for every container that's dwelled for three or more days starting Nov. 1.
To learn more about the top stories in international shipping, check out the following article snapshots: