In this week's Roar: the supply chain's mark on inflation, U.S. port rankings, falling air cargo demand, more reshoring, and positioning supply chains for success in 2023.
In theory, since the supply chain is repairing itself, the benefits of that recovery should be felt downstream. Consumers should be catching a break from all the inflated costs that came with COVID and the snarl it made of logistics and transportation. But not so fast. Because despite an apparent turnaround for the better, in reality, things aren't getting much better for consumers. Part of the problem is that many shippers locked themselves into long-term contracts that were negotiated at rates significantly higher than current spot rate prices. This is not to mention other higher supply chain costs involving labor and equipment.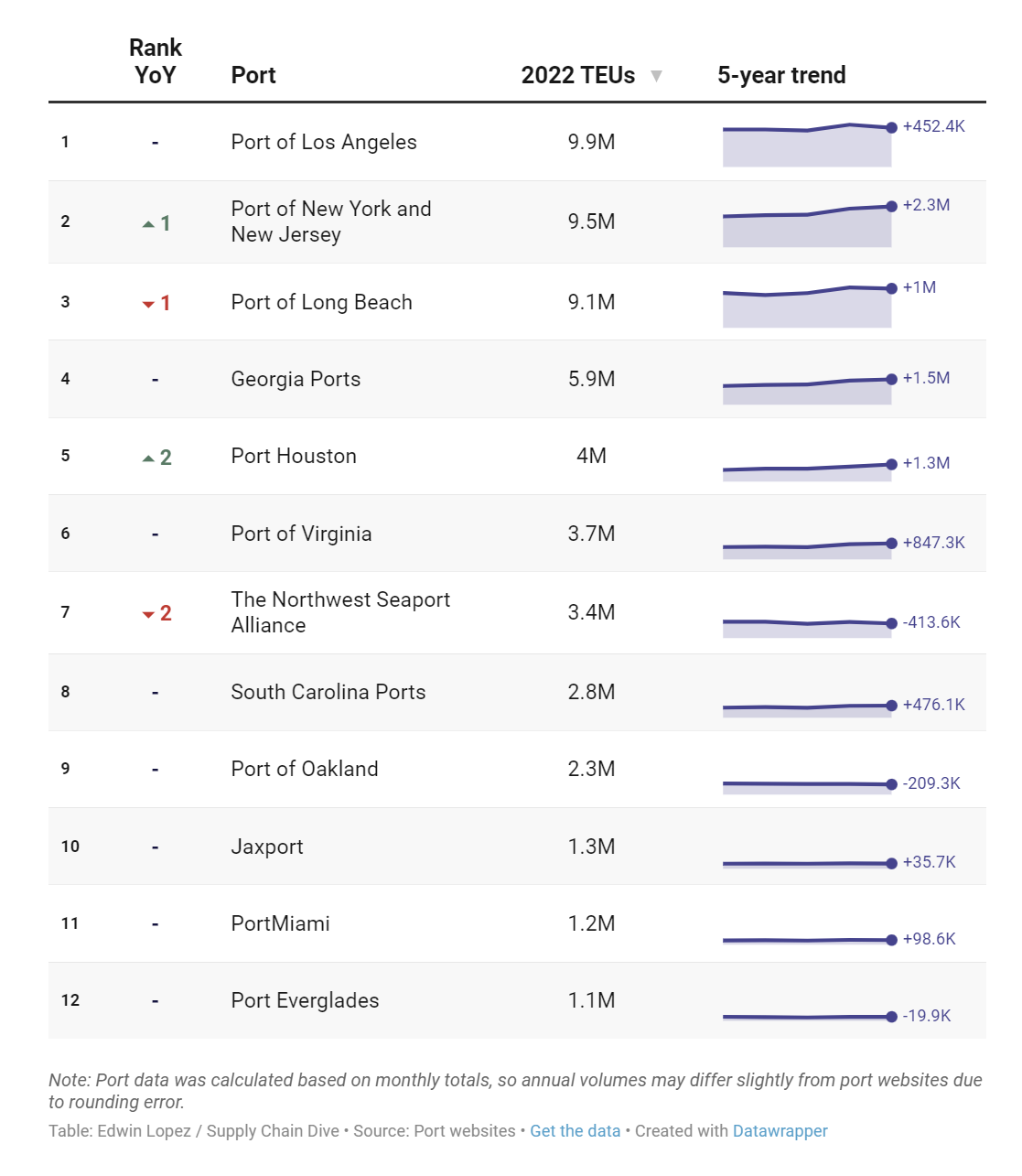 A holdover from the pandemic is also impacting U.S. ports. Take the Port of New York and New Jersey, for example. As shippers lost faith in West Coast ports, they rerouted to the east and for a while, the east reigned—for a brief moment in time. But in terms of the year, the east was nothing more than a second choice, with the Port of LA remaining the busiest port in the US for 2022. This chart shows the latest ranking of ports by volume.
In air cargo news, those in the freighter conversion business is watching their market get caught up in a downdraft, to the tune of a 20% drop in demand for conversions in 2023. Quite a change from a few years ago, when a huge demand for capacity had the conversion business booming.
A trend is continuing that more manufacturers are reshoring some or all of their business. The pandemic changed a lot of things and, in turn, forced many to make changes they might never have considered. And now, for a variety of reasons, companies need to reassess the risk of keeping manufacturing in China. One thing has not changed is consumer expectations for faster and cheaper delivery, which near-shoring can often help.
The transportation industry needs to look at current trends and develop the agility necessary to shift when challenges arise. One industry expert cites more focus on the customer experience, creating supply resilience, and focusing on sustainability as three opportunities for companies to remain agile moving forward.
For the rest of the week's top shipping news, check out the article highlights below.