The impact of tough market conditions is continuing. From increasing Equipment Imbalance Surcharges, to warnings of import spikes across the U.S., to warehouses that are too full, to post-Brexit container logjams, to modal shifts, we're here to deliver this week's most pressing news in international shipping. At the top of the list is approaching carrier Equipment Imbalance Surcharges (EIS) and General Rate Increases (GRI) scheduled to hit approximately a month from now.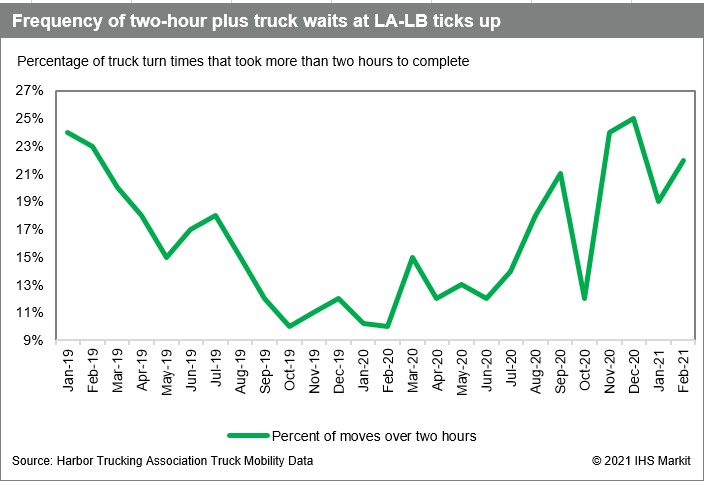 According to AJOT, for example, MSC announced that "effective April 12th, 2021 an EIS will be applicable for all REEFER cargo ex. AUSTRALIA and NEW ZEALAND to USA & CANADA: USD 200 per 20' Reefer and USD 400 per 40' Reefer." And for those hoping to see port congestion ease throughout the ports of Los Angeles and Long Beach, "anticipating record sales in 2021, retailers expect U.S. containerized exports will increase 20 percent or more each month through June," based on JOC.com's data.
This means that while conditions aren't expected to get worse, we definitely won't see any real improvements until well after this summer given the sheer strength of sustained consumer demand. Supply Chain Dive released information supporting this expectation as well, citing the availability of vaccinations and the recent stimulus checks as two primary contributors.
The anticipated boost in consumer spending is also projected to impact other major ports across the country. According to figures from S&P Global Market Intelligence's Panjiva, "overall U.S. seaborne imports in February were up more than 29% YoY and up 20% compared to the same month in 2019."
Supply chain delays are forcing many retailers to rethink their inventory management strategy and the result is warehouse space is becoming very tight. A big reason why is that many companies are building inventory to help smooth the problems further upstream in their supply chains. And, the negative impact of port congestion is starting to show up on companies' bottom lines.
Over in the UK, ports are facing similar container congestion and trade disruption as leading gateway terminals struggle to handle increased traffic resulting from major pileups of complex post-Brexit cross-Channel shipments. With these freight delays in ocean shipping and the insanely high freight rates in air, shippers and forwarders are having to get more creative in how they source and transport their goods in order to find a reasonable balance between price and transit time.
Whether that involves turning to multimodal consolidation routing solutions or sticking to local manufacturing options and skipping China altogether is ultimately up to what logistics professionals value within their own supply chain processes. To learn more about how these industry updates are potentially affecting your operations, check out the following links: