Investing in the Industry's Future
In the latest issue of The Weekly Roar, HMM spends $1.57B on 12 new container ships, port congestion causes detention and demurrage fees to spike, Hapag-Lloyd makes the first digitally-controlled port arrival, JFK plans to develop a new airfreight handling facility, and the air cargo sector predicts a healthy peak season.
After signing newbuild contracts with two different manufacturers in South Korea, HMM announced that it expects all 12 vessels — each capable of carrying 13,000 TEUs — to arrive within the first half of 2024. FreightWaves also reported that "all will be installed with hybrid scrubbers and designed to be liquefied natural gas ready," in an effort to help decarbonize the industry.
As major container liners work to add more capacity, surging import volumes and increasing delays continue to drive detention and demurrage fees through the roof. According to JOC, "the average detention and demurrage charge for containers of all types reached $1,219 by Mar. 2021, a 104 percent increase from the level seen a year earlier."
Meanwhile, Hapag-Lloyd's vessel, the Kobe Express, made the first official digitally-controlled just-in-time (JIT) port arrival at the Moroccan gateway Port Tanger Med on June 25. By using Wärtsilä Voyage's proprietary Navi-Port system to share "the required time of arrival digitally with the onboard navigation system to allow the ship's speed schedule to be adjusted for JIT arrival," the Kobe Express was able to reduce time at anchor and save fuel.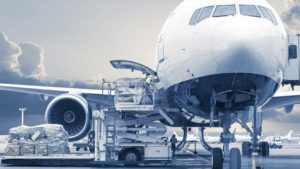 Another recent example of industry leaders striving to optimize operational efficiency includes the Port Authority of New York and New Jersey and Aeroterm's new $145 million project aiming to construct a 350,000 square-foot airfreight handling facility at John F. Kennedy International Airport (JFK). With a start date set for September of this year, this huge investment is only "the first phase of modernization of air cargo operations at JFK," according to Supply Chain Dive.
Also, an increase in air freight rates at the end of June shows us that air's slow season might be over while also painting a positive picture of a healthy peak season as many predict a sharp rise in demand for the month of August. Although a lot of market factors still remain up in the air, so to speak, one UK-based forwarder told The Loadstar that he "definitely thinks it will be a very busy market, come August, on air freight from Asia globally — all the signs and forecasts are there."
To learn more about this week's top stories in international shipping, check out the following article highlights: