In this week's Roar: labor unrest hits the US West Coast while the East Coast imports spike, UK ports looking to 'Level Up,' top ways technology can help supply chains, and the bad stuff lurking in shipping containers.
Bill AB5, California's new law that restricts outside contractors, continues to stir up the trucking industry.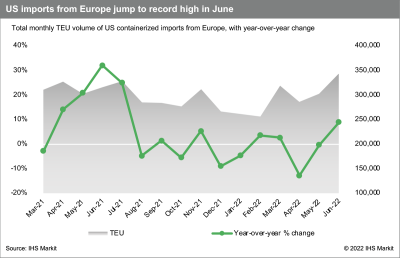 The Port of Oakland has been dealing with some slowdowns since last week as truckers protest. They've blocked the truck gates and access to container terminals. Add this to the ongoing turmoil over dockworker's contract negotiations and the port is almost at a standstill. Current problems with the railroads is not helping throughput either.
Ports on the East Coast are starting to feel the pain West Coast ports have been dealing with for nearly two years now. Congestion is no longer a predominantly West Coast problem. It's impacting all of the nation's ports. Experts say that while the overall number of container ships waiting for a berth in the US has dropped a bit, the East Coast has many more than usual. Part of the problem is ships that are hoping to avoid issues at LA and Long Beach ports are heading to the east, which is causing a new headache there.
A big part of the East Coast increases are imports from Europe, as the chart shows. On a related note, UK port operators are calling for expansion as part of a Levelling UP initiative that was announced in February. It aims to bring about a "complete system change of government works." Operators feel ports play a significant role in the UK's economy and a new strategy that includes expansion would help regenerate port communities.
The supply chain took a major hit in the last few years. No one expected the pandemic and the chaos it caused. But would the supply chain have fared better if it had already had 21st-century technology in place? We'll never know. Regardless, industry leaders are changing how they operate, introducing and establishing new tech. Of the 11 new technologies in use, a few that are making an impact are new inventory and network optimization tools, cloud computing and storage, and sensors and automatic identification.
What's in those shipping containers? Since a 2006 incident at the Port of Rotterdam when two workers instantly fell sick after opening a container listed to contain glassware and ceramics, researchers have begun to investigate the dangerous chemicals that some shipping containers carry.
In the above incident, the container had something else lurking inside, along with the cargo. Methyl bromide, a toxic gas. This has led researchers from several countries to take air samples from arriving container ships. Sweden reports that 1 in 8 arriving container ships house significant levels of toxic chemicals. Sometimes due to chemicals used to fumigate and other times due to cargo off-gassing. Researchers are hoping that more attention be given to the situation. As things stand, workers who open containers are put at unnecessary risk.
For the rest of the week's top shipping news, check out the article highlights below.