In this week's Roar: some good news on China tariffs with some bad news on China and COVID, congestion in Europe, the state of U.S. logistics – quantified, and a question of ethics in the supply chain.
The White House is exploring options on how to put the squeeze on inflation and rolling back some of the tariffs on China may be one of them.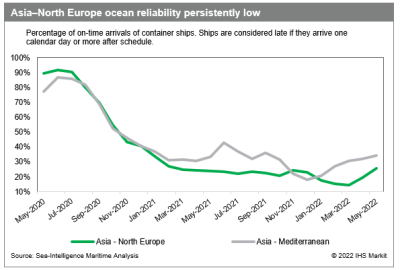 It's expected that sometime soon, President Biden will introduce suspensions on a list of tariffs—just a modest $10 billion out of a total of $360 billion in tariffs that China is subjected to. According to the US Treasury, some of the tariffs serve "no strategic purpose."
Just when you thought it was safe again, China is facing new COVID flareups. This, of course, has led to more lockdowns. One estimate puts about 115 million people under full or partial lockdown as of last week. Nationwide, that's between 70 and 75% more people facing restrictions than the previous week. China's strict COVID policies and ongoing lockdowns have global manufacturers seriously considering moving their factories elsewhere—either back to Europe, the US, or other Asian countries.
And speaking of Europe, they are facing their own crisis, as congestion at ports reaches critical levels. Maersk reports that "bottlenecks across the Asia-North Europe network have contributed to an accumulation of delays on our services," and places the blame on "terminal congestion." All of this is happening despite a drop in container traffic to the area, since soaring prices have consumers cutting back on spending. Why? Terminals are under pressure thanks to driver shortages and disruptions to inland rail and barge services. Additionally, there is an overall lack of schedule reliability and an increase in call sizes—more containers moving on and off ships during port calls.
Moving to the US, it should be no surprise that an economic downturn is looming. This is supported by the Logistics Managers' Index—a calculation of supply chain pressure—which has fallen for 3 months in a row, putting the Index at 65 in June, down from just over 76 in March. Bad news for the economy but not so bad for the industry.
Is it ever okay to push ethics aside? It looks like some think so since there are shippers who have decided to move goods through Russia's rail system despite sanctions. This means that the network is still seeing growth—albeit marginal. To the point where China is reporting congestion at some border crossings. In fact, some crossings have had to close temporarily, thanks to a backlog. And unfortunately, the situation in Northern Europe, where they're facing ongoing port congestion, is convincing even more shippers to use the Russian route.
For the rest of the week's top shipping news, check out the article highlights below.