In this week's Roar: US/ Mexico trade, the end of zero-COVID, fewer ocean charters, reevaluating logistics employee management, and Jaguar's 2023 Q1 Outlook.
Trade growth between the US and Mexico is expected to remain steady through 2023. Cross-border commerce between the two countries in 2022—at least the first 10 months of it—remained very healthy compared with the year-over-year stats of 2021. Specifically, a negligible drop of only 1% against record consumer spending that spurred record cross-border freight. And the future is looking just as bright for 2023, thanks in part to Mexico looking like a choice location for corporations wanting to nearshore some of their operations.
A trend that's been talked about a lot recently is the shift in volume from the US West Coast to the East and Gulf Coast ports. Interestingly, this chart from JOC.com shows that the trend is anything but new. It's been happening for about 10 years!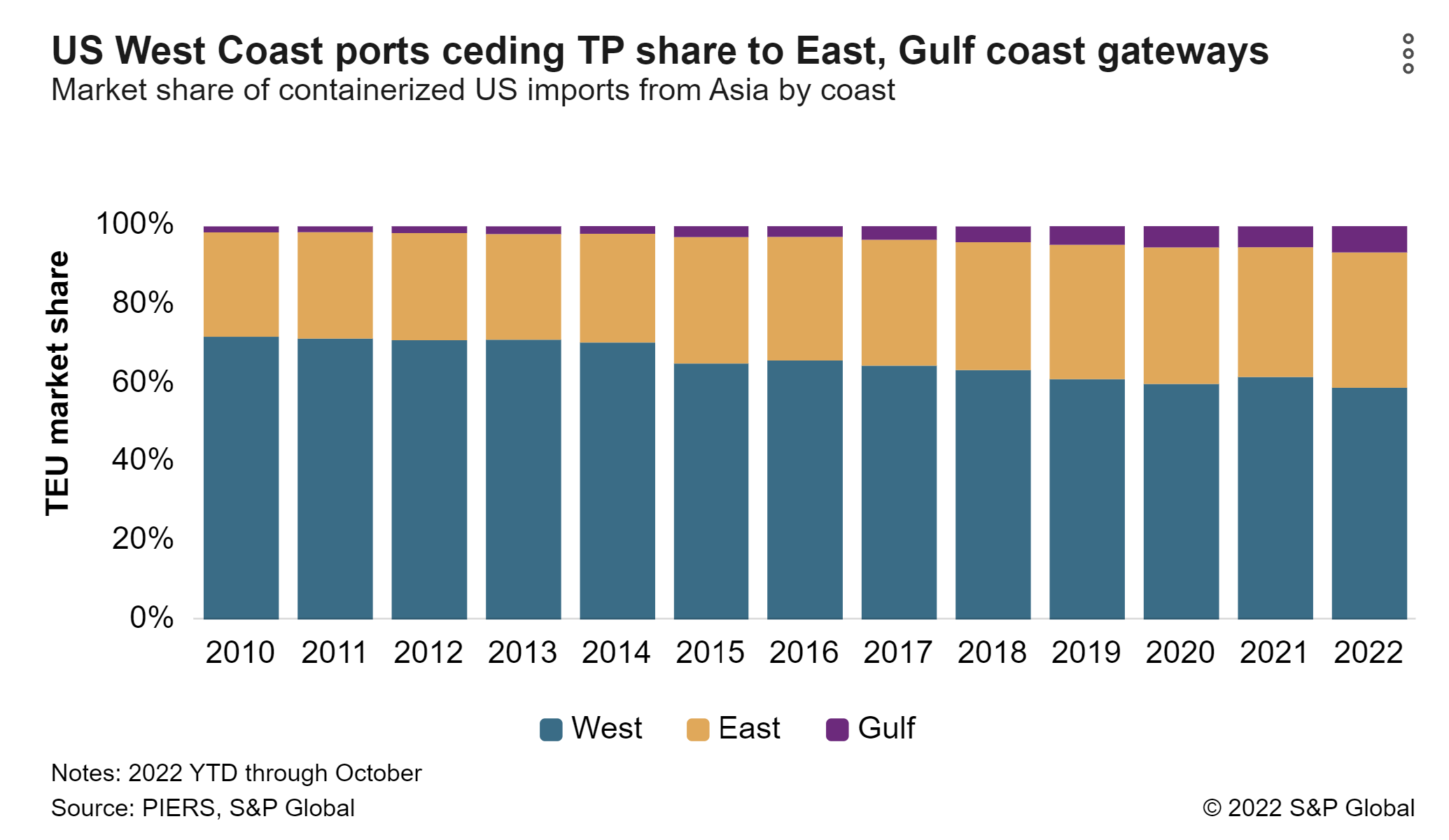 In China, there is a glimmer of hope (maybe). The country has decided to lift some of its pandemic-related restrictions in January. This means ports will no longer work in the closed-loop fashion they've been operating under since the beginning of the pandemic. Workers at the ports and associated with the ports will no longer need to work their shifts while isolated. However, many in the industry feel the move comes at a bad time as COVID is now surging unchecked through Shanghai. Chinese New Year is less than a month away, and current case counts are already putting the hurt on the supply chain.
In ocean freight, chartered cargo ships appear to have had their day for now. Back in 2021, retailers began chartering their own cargo ships in an effort to import goods in time for the holiday season. At the end of 2022, they've started pulling back on that tactic, since capacity on container ships is currently abundant.
It seems the industry needs to rethink something—it's that it can be a win-win situation when employees are treated well. The Council of Supply Chain Management Professionals EDGE 2022 conference in Nashville, Tennessee, recently hosted a panel discussion on Transportation Labor Issues and Opportunities where they discussed the need to put the traditional top-down management style where it belongs. In the dark past. It's the only way companies can attract and retain the best of the best—in particular when it comes to truckers and warehouse workers.
And finally, Jaguar presents its 2023 Outlook. In the headlines, we have the latest on global port performance, ocean freight, airfreight, US inland trends, and more. The leading stories include contradicting rate trends, more on the end of zero-COVID, and falling supply chain risk.
For the rest of the week's top shipping news, check out the article highlights below.