In this week's global freight updates, we're bringing readers an ocean freight-heavy report that provides views and news on the current situation, including spikes in rolled cargo, record-level imports, a potential ocean freight rate cap, a challenging shipping container market, and more.
Right now, it's hard for shippers to even get cargo onto ships. 75 percent of the 20 transshipment ports Ocean Insights surveyed experienced an increase in rates of rolled cargo in December, with an overall 37 percent MoM increase as well. According to Sea-Intelligence, blanked sailings are anticipated to make up between 13 and 11 percent of overall capacity in the third and fourth week of this month, respectively. Carriers are making efforts to add vessels to their networks, however, as a way to combat these issues, so capacity is projected to rise by 21 percent and 34 percent YoY for those same weeks.
According to a recent JOC article, U.S. imports from Asia reached an all-time December high, indicating that the surge in container volumes that's been overwhelming U.S. ports since June shows no signs of slowing in the near future.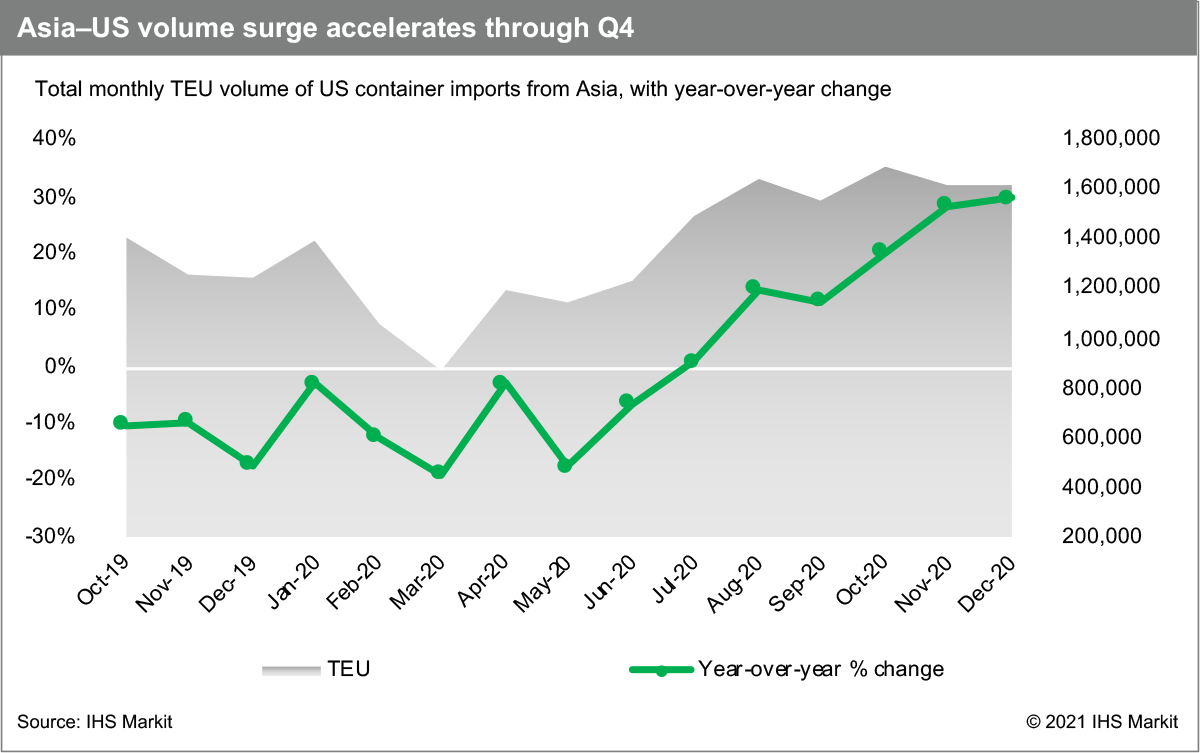 With 1.626 million TEU on the books last month, we're seeing a 29.9 percent YoY increase in container volumes between December 2020 and December 2019. This also marks the third-highest monthly volume of 2020, which totaled 16.6 million TEU overall. Because of the strong demand for PPE, medical supplies, and e-commerce merchandise, intermodal traffic and port congestion were also a lot more intense in the eastbound trans-Pacific than they normally would be for this time of year.
As for the regulatory measures that are being taken, China's Ministry of Commerce and the U.S. Federal Maritime Commission are both keeping a close eye on FAK market conditions. There's even been talk that the former may be looking to start enforcing some antitrust measures to help control container shipping's excessive rates and equipment shortages.
This help could not come any sooner though because there are essentially no TEUs available to anyone unless they're willing to pay three times the typical going rate just to get their goods out of the ports of Los Angeles and Long Beach. And those who refuse to pay FEU prices for TEU containers are just getting rolled over and over until air freight becomes their only option, while the number of empties returning to China is up 55 percent YoY. With global demand significantly outpacing equipment availability, added surcharges are only serving to kick shippers and their logistics service partners while they're down.
To learn more about these ongoing problems and the other top stories of this week, check out the following article highlights: