In this week's Roar: good signs for manufacturing, high times in the trans-Atlantic trades… but not so much for Asia-Europe, rising expectations for US trucking, and finding a fix for logistics labor woes.
We all know as the economy goes, so goes the supply chain. And after months of bad news it seems a little bit of optimism may be warranted despite factory activity contracting in January in the US, Europe, and Asia. A survey of factories in the eurozone shows that the bloc managed growth in the last quarter of 2022. This may be a sign a rebound is on the horizon. Some think these could be the "green shoots" economists are looking for when times are tough.
Speaking of ups and downs, the cost of fuel continues its downward trend (despite a few bumps) over the past few months as this chart from wsj.com illustrates.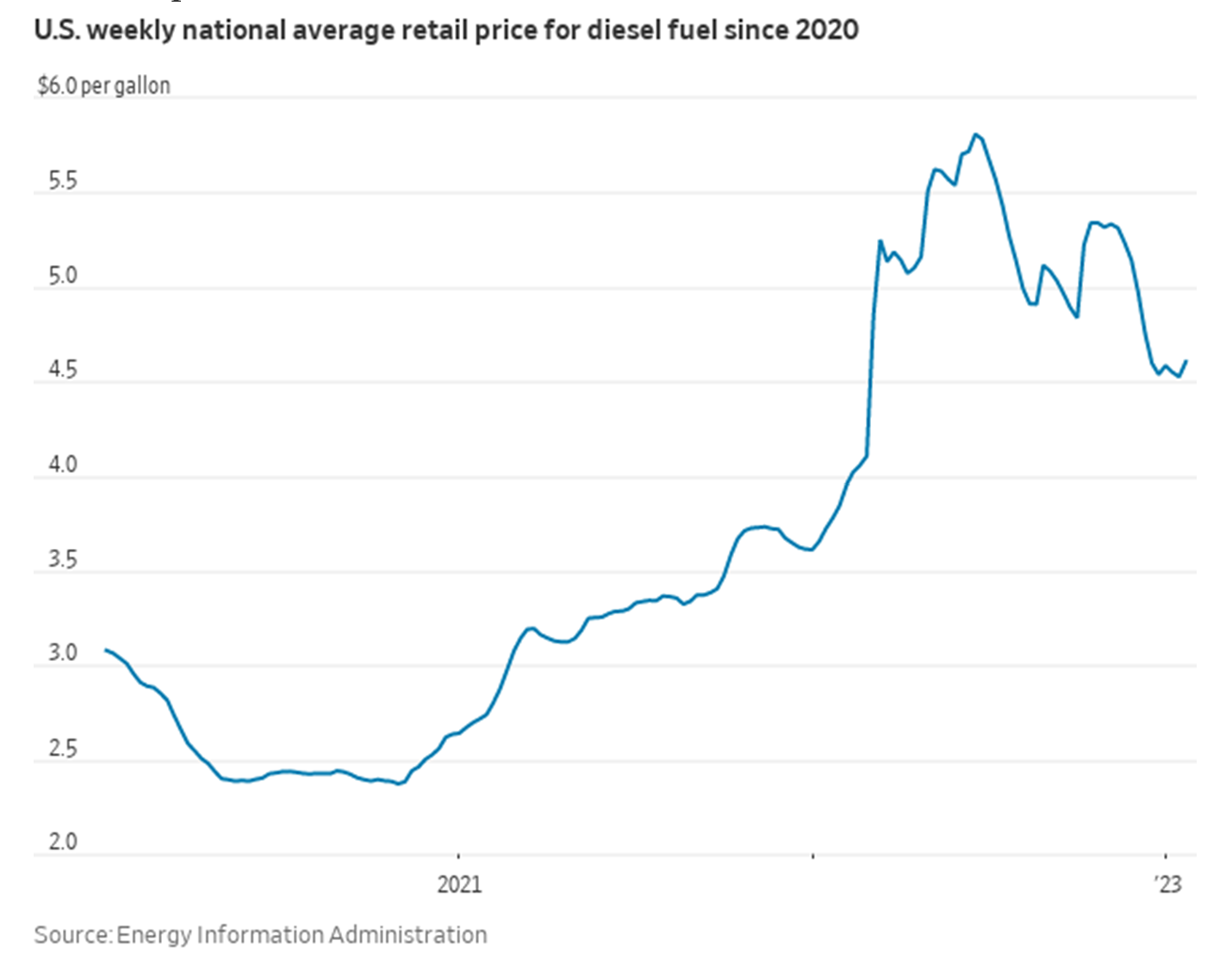 In the US, we have A Tale of Two Cities Coasts. The ongoing misery at West Coast ports probably led to some mirth on the East Coast as shippers began to favor them. Add in double-digit growth in imports from Europe, putting Europe-East Coast spot rates at about triple what they were before the pandemic, and it's still good times for carriers on the East Coast.
Things are much slower for Asia to North Europe lanes. Reports show rates nearing pre-pandemic levels. European importers aren't shipping much and carriers have far too much capacity. That's not a good combination for carriers. High capacity, high stock levels, and weak demand are all factors, so carriers are adjusting. By mid-February, they will have removed 53 voyages on the Asia-North Europe and Asia-Mediterranean routes.
While ocean carriers are struggling to stay afloat, there's a feeling of buoyancy in the US trucking industry—despite the fact that "trucking is definitely down right now." Retailers have told them they will be ramping up freight demand later this year. It seems their expectations are for a "normal" fall shopping season. This optimism may be a good sign for the overall supply chain, too.
But without laborers, the industry is sure to sink. A lot of current supply chain workers are unhappy—as last year's labor strikes attest to—and attracting new workers is a huge problem in the industry. Better pay would certainly help, but the problem is more complex than that. Something must change because as it stands, the risk to the supply chain is significant.
For the rest of the week's top shipping news, check out the article highlights below.