In this week's Roar, we've got big-time volumes at global ports, Asian imports setting records, a call-to-action for ocean shipping and the environment, frustration in the EU, and a perspective on how the current supply chain problems come to an end.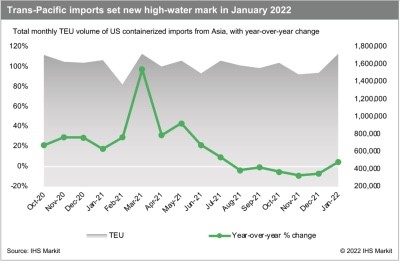 Before this week's stories, it's necessary to acknowledge both the seriousness and potential supply chain impact from the geo-political situation in Ukraine. The ocean carriers have issued several updates over the past week including these statements from Maersk (click here).
There is a specific concern for supply chains due to what will happen with the Energy markets. Obviously, there is a complex set of circumstances occurring that we will all be watching.
Far less serious, but still important is what else is going on in global freight markets. For one, it seems that one of the favorite past times for people during the COVID era was online shopping. In 2021, a tsunami of imports hit the nation's ports, flooding them with shipping containers and nearly crushing the US supply chain infrastructure, generally creating havoc everywhere.
All that is not exactly news to any of us, but the data behind it all is still interesting. The nine largest ports in the US handled a record 50.5 million shipping containers in 2021, an increase of 16% over 2020 in total container volume.
Imports from Asia boosted the number of containers into the US to a record high in January, a 4.5% increase over January 2021. Forecasts for February from the Global Port Tracker report show the trend continuing with an 8.7% year-over-year increase. West Coast import volumes are expected to stabilize during the first half of 2022 but continue to grow on the East Coast during the same period.
Decarbonization of ocean shipping was the topic of a recent impassioned speech to the U.N., and a topic in need of urgent attention. "Maritime shipping accounts for about 3% of global carbon emissions. If it were a country, this sector would be the sixth-largest carbon emitter, just behind Japan," according to this technologyreview.com article.
Moving to the EU, there's a push for regulators to investigate the business practices of the container shipping industry. The European Association for Forwarding, Transport, Logistics, and Customs Service (CLECAT) has launched accusations against ocean shipping carriers saying that they are driving out independent freight forwarders and are guilty of profiteering. They want EU Competition regulators to step in and establish rules in upstream container liner shipping services and downstream markets for freight forwarding services.
Finally, data from Maritime Strategies International (MSI) estimates a gap of more than 15% in 2021 between supply and demand in the container shipping market. Whether or not an end to the crisis is near will depend on several factors at individual ports, including intermodal connections, the terminals itself, and shipping considerations—but not limited to these three. How and when these problems are dealt with will dictate the resolution of supply chain issues.
For the rest of the week's top shipping news, check out the article highlights below.