In this week's Roar: the latest on West Coast labor talks amidst declining import volumes, another labor flair-up in the UK, persistently high inventories, and finding focus to improve supply chain sustainability.
Could the ongoing labor dispute at West Coast ports be getting closer to an agreement? With lukewarm enthusiasm, port owners hope so. The Port of LA's executive director says they're "pretty confident they'll see some progress by springtime." Negotiations have been ongoing since last summer and the situation has been an anchor dragging down the whole region, tanking cargo volumes as shippers rerouted to the East Coast to avoid disruption. And a message from the port's director, that essentially equates to "maybe things will get better soon," isn't helping.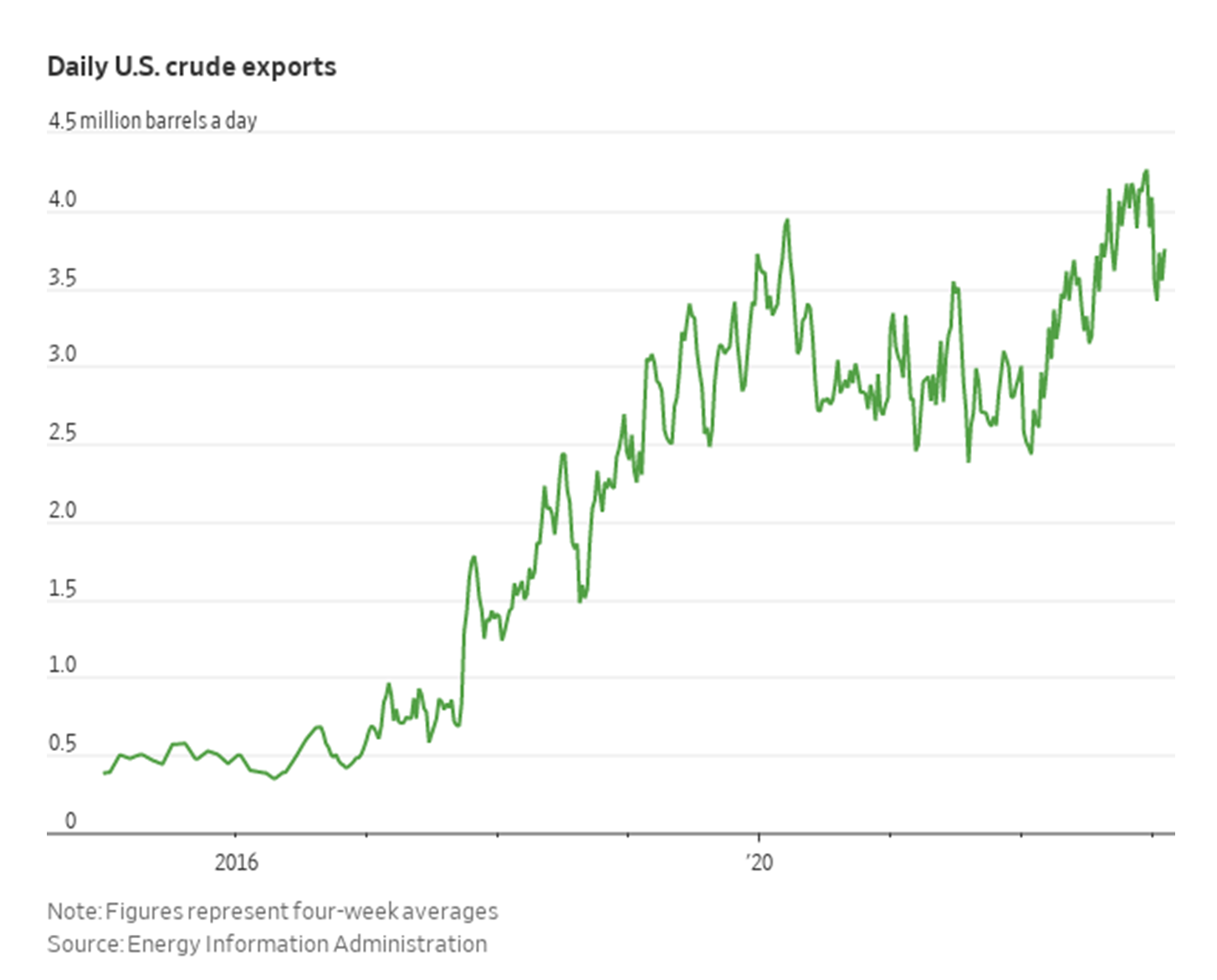 At a time when container imports continue to deep dive all over, the West Coast is taking a bigger hit than other ports. January import volumes were down 17.9% across the largest US ports, and they're expected to remain down from February through the second half of the year.
For some specifics, a recent report of January year-on-year numbers shows a drop of 23.5% in containers arriving at ports in both the east and west, with Long Beach getting hit the worst at 32.3% when compared to 2022.
With so much talk of global energy independence from Russia of late, this chart from wsj.com highlights the interesting trend of how much U.S. crude exports have grown.
Things are difficult in areas besides the U.S. West Coast with other ongoing labor disruptions igniting again. The UK Rail, Maritime & Transport union announcing four days of strikes in March and April. This comes on the heels of the latest deal being rejected—on the basis of not meeting the needs of its members in terms of pay, job security, and working conditions. Unless the course of negotiation changes for the better, the union says it will take strike action on March 16, 18, and 30 as well as April 1.
For the last 6 to 8 months, a glut of inventory has been part of the story behind lower trade volumes. And despite a push to get rid of some of that stock during the holiday season, there's still too much inventory. Even with companies pairing the normal timelines of inventory clearance with a cutback in manufacturing, it simply isn't moving out fast enough. Warehouses are at nearly 100% capacity and the rates have skyrocketed, a cost that's getting passed on to consumers. All of that is bad enough—the fact that all that inventory is also helping to drive inflation just makes it worse.
The supply chain gets plenty of blame for its impact on the environment. And, there's constant pressure to be more sustainable while managing the cost to do so. With cost in mind, what are some of the sustainability best practices logistics management should be looking at? There are at least three areas that could be addressed in a reasonable amount of time and at a reasonable cost. Purchasing and procurement, transportation, and warehousing.
For the rest of the week's top shipping news, check out the article highlights below.