In this week's Roar you'll read just how far-reaching problems for global ports really are, why it's becoming easier to find empty containers, the spike in fuel costs, a renewed push for electronic BOLs, and more automation for logistics vehicles.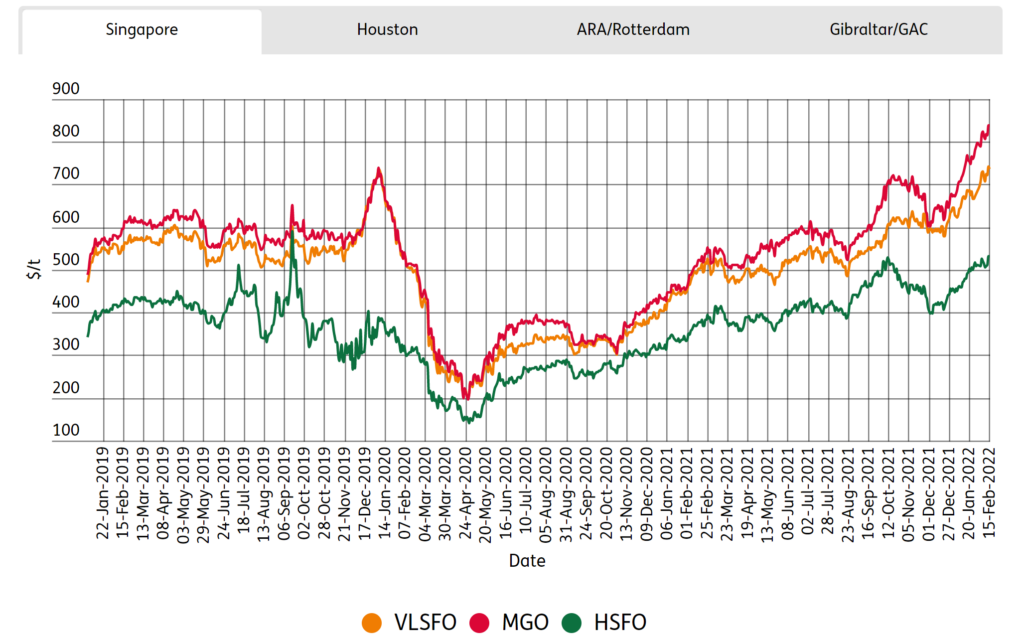 Global ports just can't seem to get back on track with more reports just in on persistent congestion levels and gloomy predictions for Q2.
Container ship queues at Los Angeles and Long Beach ports remain near record highs, with Asia-based Linerlytica reporting that 10% of their boxship fleet is tied up in port congestion. Kuehne+Nagel's Global Disruption Indicator reports that hotspot port areas currently have 12.23m teu waiting days (TWD), which has jumped from 11.56m in three weeks. To put that in perspective, waiting days before the pandemic were less than 1m teu days.
For a bit of positive news, it seems that the container shortage is behind us. After record production and price increases in 2021, output and pricing have started to pull back. So at least one constraint on the supply chain has begun to ease.
Bunker fuel (see the chart for the recent cost history) is becoming increasingly costly, with crude prices edging towards $100 per barrel. Marine fuel will likely continue on these highs even when, and if, oil eases, according to Lloyd's List. The tense situation in Ukraine continues to cause additional uncertainty since it's a major route for oil and gas into Europe.
There has been talk of electronic bills of lading for a long time, and the industry may be taking one step closer to becoming a reality. A new special interest group called the Future International Trade (FIT) Alliance has been formed with the goal of getting electronic bills of lading adopted industrywide and implemented as a standard. If the goal is met, it would mean saving the industry about $4 billion a year and an end to paper bills of lading.
Finally, technology continues to make slow but steady inroads in the logistic industry—specifically, autonomous vehicles and drones. In 2021, one industry report stated that according to the 1,000 industry leaders surveyed, 21% plan to invest in AV and drone technology over the next three years. Additionally, 20% said they're already using autonomous vehicles and drones, while 37% stated they would use them within the next five years.
For the rest of the week's top shipping news, check out the article highlights below.