In this week's Roar: managing supply chain costs in 2023, not-so-smooth times for the Silk Road, faster shipping on the ocean, hitting pre-pandemic lows in the US, and how to attain supply chain sustainability.
If companies and the supply chain industry have learned anything over the last few years, it should include agility and resiliency. And going forward, those traits seem to be more necessary than ever. Companies are realizing that to remain competitive, managing supply chain costs is a top priority as manufacturers continue to deal with high material and labor costs. The cost of raw materials and logistics are inflated, and it's become more expensive to attract and maintain quality labor. In order to remain resilient, many manufacturers are looking at re-tooling their supply chains altogether.
For years, the Silk Road connection between Asia and Europe held the potential to help supply chains avoid the challenges and costs of ocean shipping, but there seems to be a speed bump slowing things down. Rail volumes from China to Europe were not only significantly disrupted in 2022, they suffered a steep decline, according to new data from one of its main operators. Volume between China and Italy is down by nearly 93%, and Poland is down by close to 22%. On the flipside, a few countries, such as Hungary, saw a rise in freight volume.
On the seas, shipping times fell in the last quarter of 2022 as demand decreased and some of the remaining disruptions of the last few years finally cleared. Routes from Asia Pacific to North America and Europe fell by 12 days year-on-year in the last quarter of 2022. This graphic from wsj.com, shows another area of decline, with the Port of Long Beach volume dropping nearly a third YoY in January.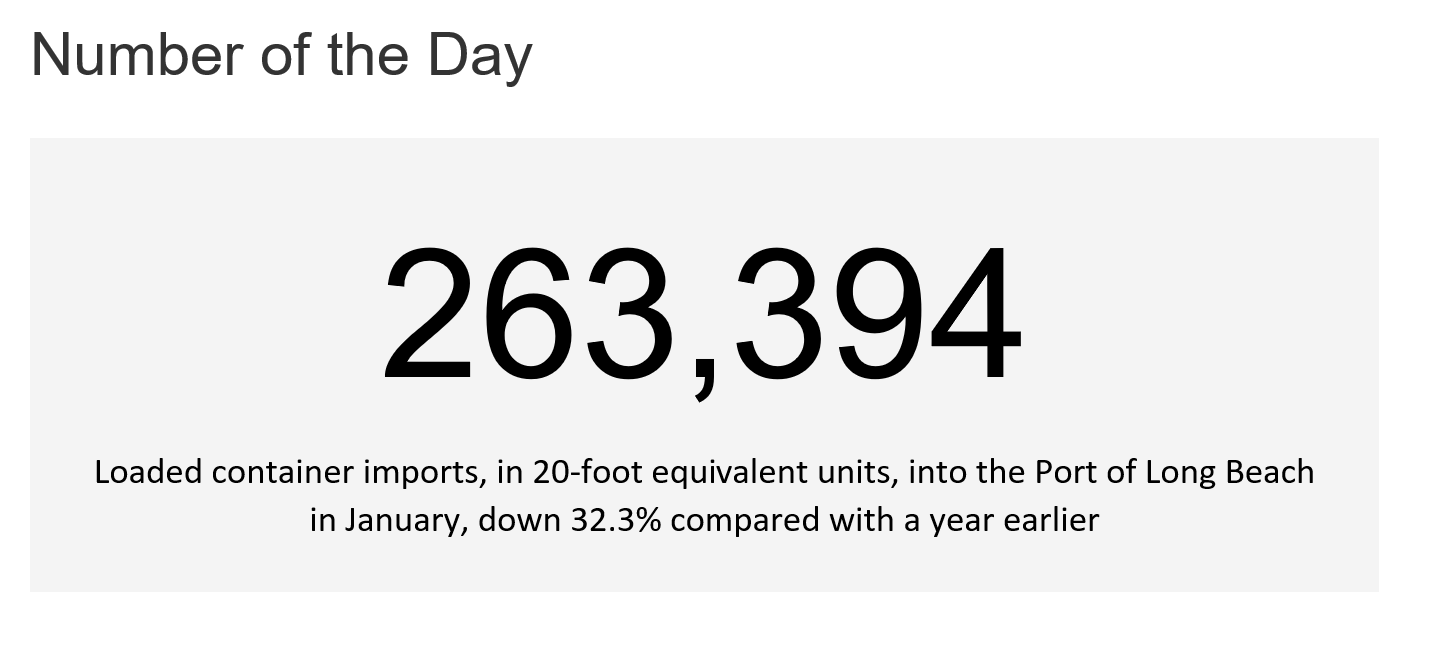 Ocean freight is not the only mode showing declines of late. US trucking rates have dropped to levels not seen since before COVID-19. And according to a recent report, these low rates are expected to last at least through the first half of the year. Capacity has increased while demand has decreased, with capacity up 8% and demand down 1%. The probability for a tighter market in the second half of the year is high, thanks to a loss of capacity as smaller operators are unable to continue, due to higher costs and lower rates.
What is supply chain sustainability and how can companies attain and then… sustain it? It might be as mind-bending as it sounds. In order to determine how to attain sustainability, companies first need to decide where their focus should be. Climate change? Or maybe social issues like human rights, diversity, equity, and inclusion. Understandably, different industries will have different focuses, but at the same time, each area requires at least some focus. However, it seems that the primary focus of sustainability — at least currently — remains on climate change and Scope 3 emissions. But as we know, change is constant and can come quickly.
For the rest of the week's top shipping news, check out the article highlights below.