In this week's Roar: supply chain whack-a-mole, truckload costs trending in the right direction, woes for European ports, (some) optimism in China, and solid air cargo service quality.
Heading into peak season, US shippers are dealing with new supply chain issues. Two major trade lines are under pressure, and the fallout is expected to spill into the first quarter of 2023. Yet at the same time, there are signs of optimism. So which is it – are things good or bad?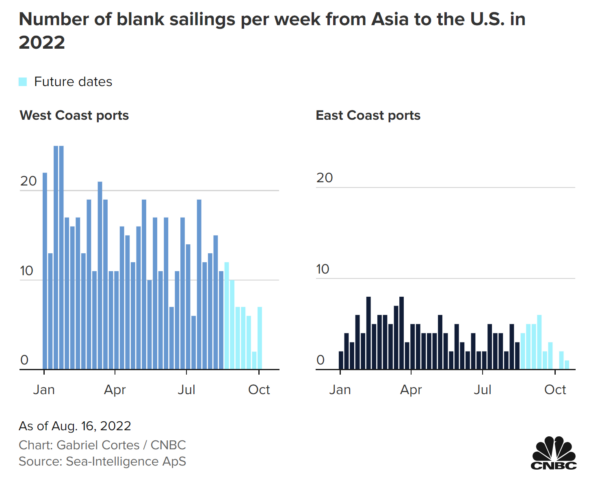 From one perspective… they are bad. Thanks to a heat wave in China, they've had to shut down key manufacturing as the country imposes planned power cuts to reduce energy consumption. And ongoing labor disputes in Germany have already created a backlog, with more strikes expected. Add in ongoing container congestion in the US and there's no way of painting a rosy picture for peak season.
Not surprisingly, new and ongoing problems on maritime trade routes have logistics managers and shippers feeling as though they have a black cloud following them. At the same time however, the enclosed charts on blank sailing show things are getting back to normal.
Other areas are doing good as well. For one, there is optimism for US inland trucking costs. According to CASS, rates have stabilized and while shippers aren't seeing any real savings yet, it's on the way. Cass believes the Truckload Linehaul Index may go negative year over year by December, which would require a drop of about 10 percent.
In other words, the best approach for right now may be to take the good with the bad and make the best of it.
In Europe, we'll need to add a checkmark to the bad column, however. It seems no one is willing to compromise in their labor disputes. All of this means that recovery in maritime trade routes likely won't happen any time soon. Europe's labor problems are not relegated to Germany. The Port of Felixstowe in England has ocean carriers worried that current strikes will be followed by industrial action, which they feel could be worse than the strike itself. To be prepared, they're making contingency plans, as current negotiations seem to have faltered. Things have also taken a turn for the worse at the Liverpool Port, as workers have voted to strike. More than 500 workers voted in favor of the stoppage, although the timing and duration have not yet been determined.
Despite the heat, China is reporting some good news. Container volume at major Chinese ports was up 26.8% year-on-year in late July. Export volume grew by 29.3% and domestic volume by 19.3%, translating to a more than 65% growth rate at both Dalian and Ningbo-Zhoushan ports, and 54% at the port of Shanghai.
One last positive out of the air cargo industry is that despite all the pressures due to the pandemic and Russia's war on Ukraine, there were 23 carriers and service providers who were able to achieve the Quest for Quality Gold award in the Air Express category this year—meaning they were able to maintain world-class service levels.
For the rest of the week's top shipping news, check out the article highlights below.