COVID-19 Places Supply Chains Under Lockdown Again
In this week's Roar, we have China's new COVID-19 restrictions, a suspension of operations at one of the world's busiest ports, another record in the making for U.S. retail imports, controversial updates to the Shipping Act, and a domestic intermodal plateau.
Here's something a lot more positive before we get into the news. From our blog: Why Prestige Brands' Says Their Supply Chain Is Among Their Smallest Worries Over a Year Into the Pandemic.
Up first in the news, let's dive into the impact China's recent COVID-19 outbreak has had on the air freight industry. According to The Loadstar, "a lot of airlines have had to cancel almost half of their [passenger] flights for the time being, and this has cut down cargo capacity significantly. Consequently, we see all airlines generally increasing airfreight rates a lot from this week."
The world's 2nd largest port, Ningbo-Zhoushan, is facing a similar situation after a single employee at the Ningbo Meidong Container Terminal tested positive for COVID-19 this week. The port's temporary suspension of operations alongside countrywide lockdowns and restrictions have led to a backlog of boxships waiting for berth space outside Ningbo-Zhoushan based on eeSea's latest data.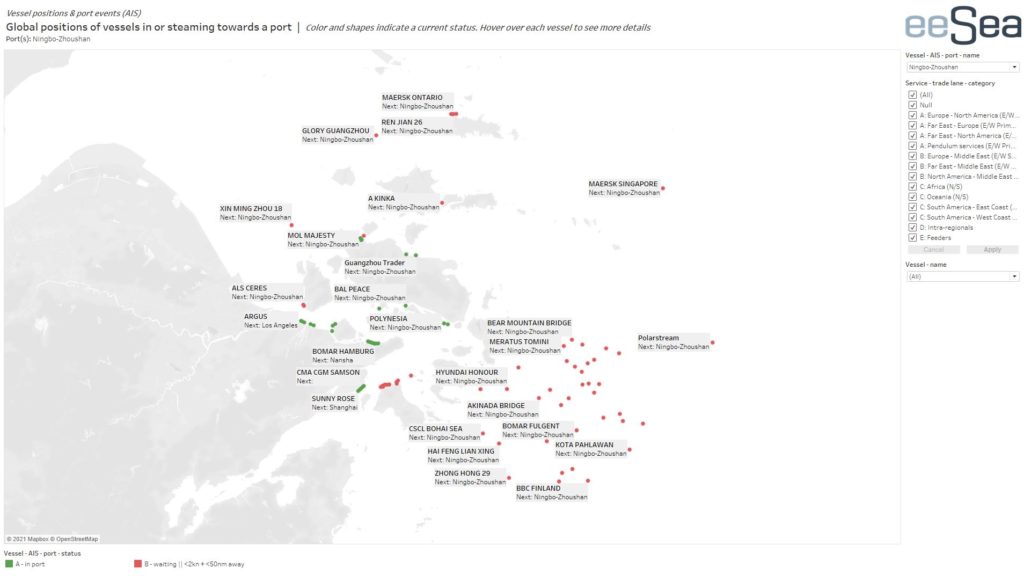 Then, there's the matter of how this year's peak season will affect transportation networks already under an immense amount of stress. According to FreightWaves, the National Retail Federation "sees imports to the nation's largest retail container ports increasing 12.6% year-over-year in August to 2.37 million twenty-foot equivalent units, ahead of the recent monthly record established in May of 2.33 million."
The U.S. is also in the midst of a heated debate between ocean carriers and exporters over whether or not carriers are playing fair in today's chaotic freight market. In response, legislators are working to update the Shipping Act, which would include "broadening the scope of FMC's powers by giving the agency the responsibility of ensuring the ocean market is 'reciprocal' in an effort to promote U.S. exports."
Finally, we have JOC predicting that it's likely "we will see a plateau this fall than a peak" in regard to domestic intermodal operations given how capacity constraints have contributed to a YoY drop in revenue moves. To learn more about this week's top stories in international shipping, check out the following article highlights: