In this week's Roar: a closer look at import data, simmering labor trouble at U.S. ports, AI in the supply chain, a new trade partnership in the UK, and ocean carriers taking to the air.
The story data tells will often change based on perspective. That's what's happening with the data on U.S. imports. The numbers from March show an import rebound—up 6.9% from February and 4.2% from March 2019, before the impact of COVID. And that's a positive sign, right? Sort of. U.S. imports are down 26.7% when compared to an August '22 high, with 41.6% of that being imports from China. This could be because of some other crucial data. The US still has a lot of inventory on hand—and it isn't clearing out.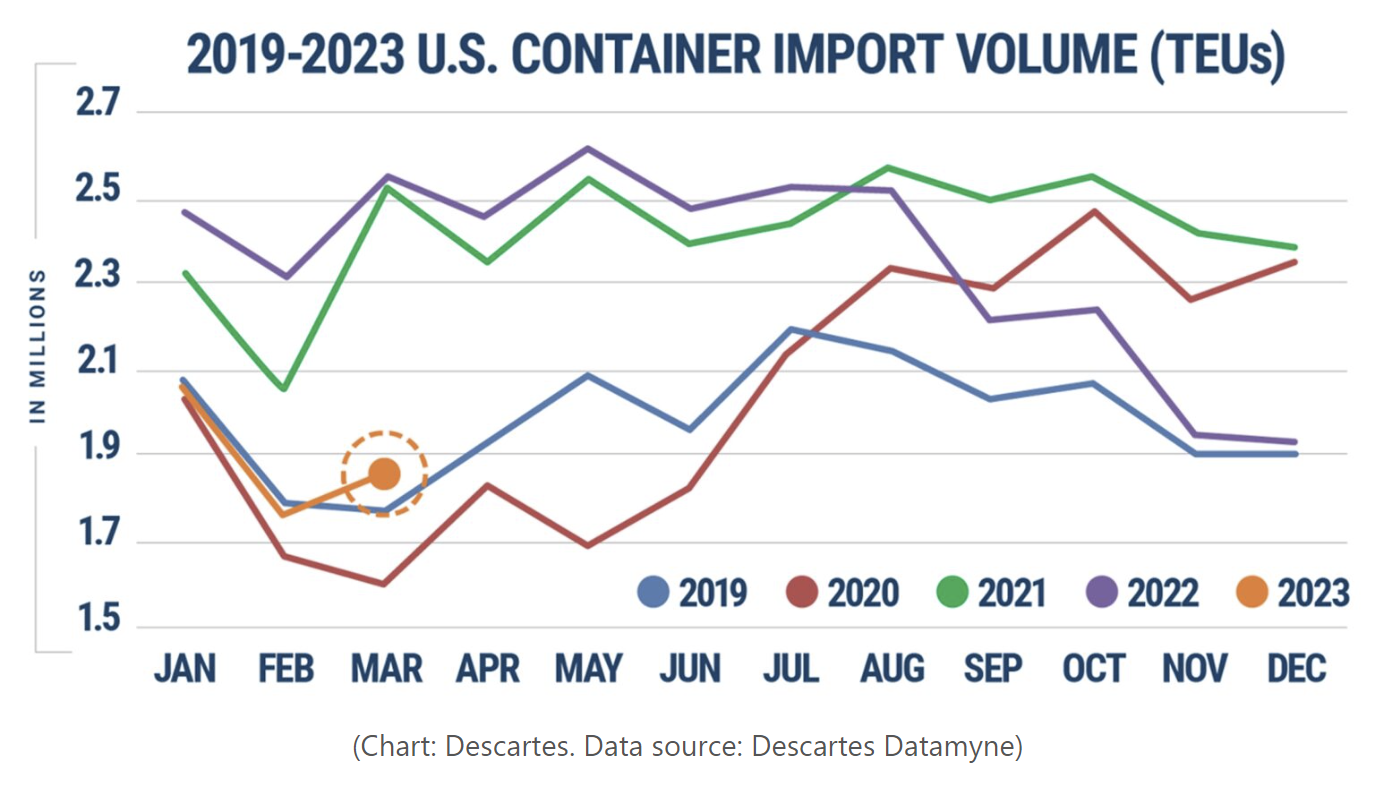 A large part of the latest U.S. import increase was at the Ports Los Angeles and Long Beach, where they saw increases of 30% and 25%, respectively, from February to March. But negotiations seem to have hit a snag, resulting in job actions that closed nearly all port terminals. The union has been working without a contract for about nine months and it appears that patience is wearing thin. Importers need to keep a close eye on the situation.
If you read the news, you've likely read about the recent surge in AI. What kind of impact will it have on the industry, and could it be positive? Given the disruption it faced over the last several years, that's a valid question. MIT Professor Yossi Sheffi has written a book, The Magic Conveyor Belt: AI, Supply Chains, and the Future of Work, which explores the impact AI might have on the industry.
In the UK, their place in the new Comprehensive and Progressive Agreement for Trans-Pacific Partnership (CP-TPP) is official. This is a free trade agreement between Australia, Brunei, Canada, Chile, Japan, Malaysia, Mexico, New Zealand, Peru, Singapore, and Vietnam. Their stance is that this partnership will benefit importers and exporters by providing increased market access, tariff reduction, and clear-cut rules and regulations. Even better for the UK will be the reduction in customs duty. What does this mean? It's a path to easier entry into markets and the ability to offer better, more streamlined, door-to-door services.
The demand for air cargo has been in a nosedive for some time now, but ocean carriers are forging ahead with plans to enter the market. Notably, Maersk is said to be launching twice-weekly flights between Chicago (RFD) and Hangzhou (HGH), plus South Carolina (GSP) and Shenyang (SHE). Additionally, CMA CGM and Air France-KLM have paired up to build a broader distribution network. All of this while shippers are abandoning air cargo and moving back to ocean freight.
For the rest of the week's top shipping news, check out the article highlights below.