In this week's Roar: the lasting impact of China's lockdown, concerns about what happens next for ports and air cargo, help for US shippers frustrated with railroads, and a look at digital supply chain twins.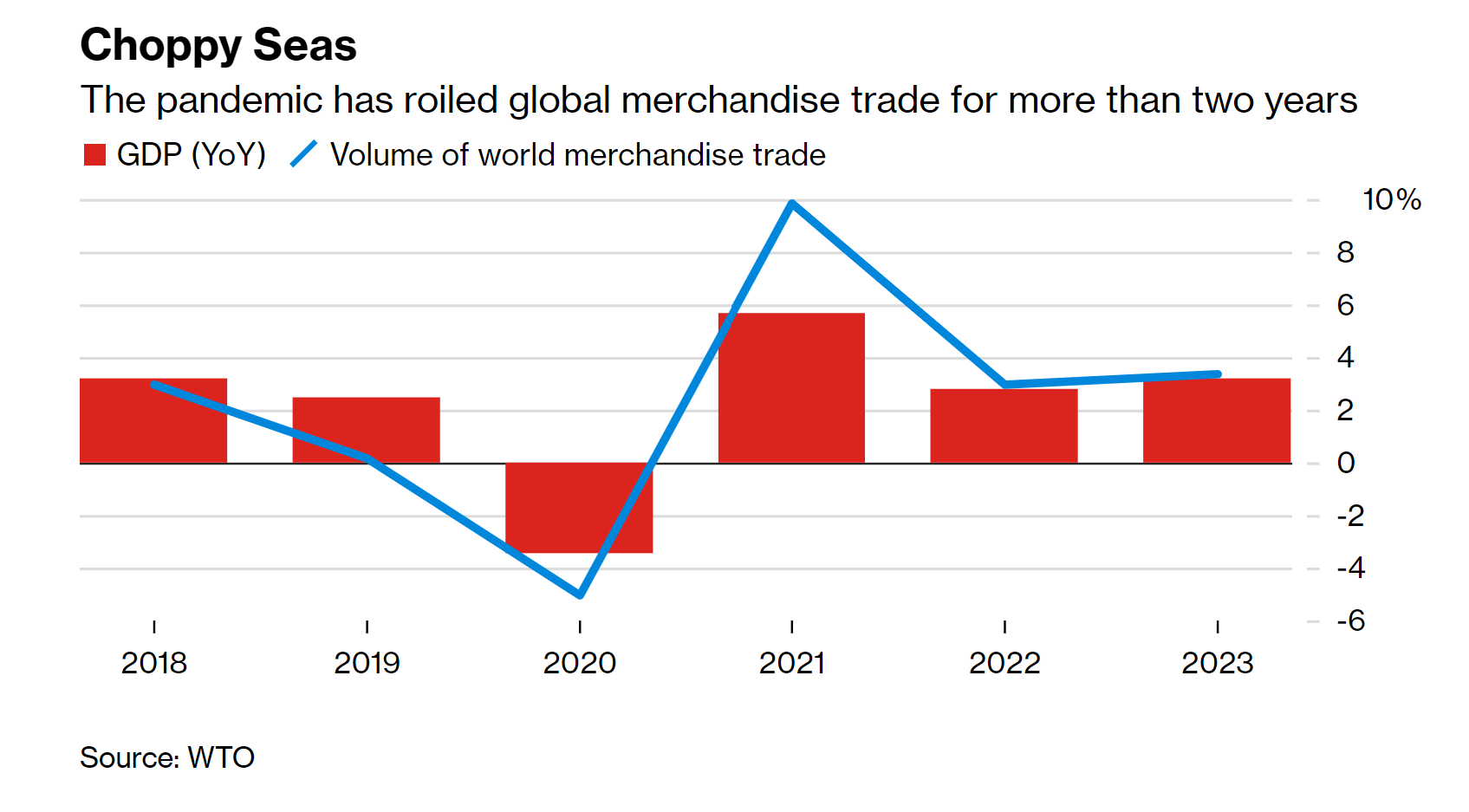 But first, check out this chart which shows what a wild ride it's been for global GDP according to the WTO.
We've already determined that what happens in China doesn't stay in China, but just how bad is the situation? Is this a short-term crisis we're in, or are there long-term problems still looming for supply chains?
Unfortunately, it doesn't look like things are getting better in terms of lockdowns in Shanghai. In fact, recent news footage shows steel fences going up, forcing people to stay in place. Some predictions indicate it may be June before things begin to improve.
Production at the Port of Shanghai has dropped between 20 and 30%, with resulting shipping delays affecting not only intra-Asia trade but North American and European trade lanes as well. Several carriers have already decided to completely bypass the Port of Shanghai until at least mid-May. There is significant concern in the industry that both local and overseas ports will not be able to handle the capacity once cargo volumes return to normal.
The concern about what's to come is present for the air sector, as well. It is still facing turbulence thanks to China's zero-COVID policies. Many in the industry are expecting major backlogs once production in China ramps back up again. Of course, rates can be expected to rise in tandem. In fact, they've already begun to trend up.
COVID isn't the only issue supply chains are dealing with currently. Russia's war with Ukraine is deepening an already chaotic situation. Some in the industry predict that throughput volumes at major European Ports will be impacted throughout the rest of the year. And capacity constraints continue to be another pain point.
In some good news for US rail shippers, the Surface Transportation Board released a proposal last week that would make allowances for shippers to petition regulators in certain circumstances—for example, when facing significant service declines. The purpose behind the proposal is to not only streamline the file petition process but also allow the board to take action, even when shippers haven't filed petitions.
And finally, more proof that the industry is taking advantage of technology. Supply chains are implementing digital twins—virtual models that are a perfect reflection of physical objects. Of course, supply chains aren't physical objects, so in this case digital twins model the connections between objects, whether materials, products, or customers. Those connections could be planning, scheduling, coordinating, optimization of processes or warehousing space, transportation, and more.
For the rest of the week's top shipping news, check out the article highlights below.