In this week's Roar: looking good in LA/LB, tightening air cargo capacity, box rates down… but still up, too much inventory in Europe, and the long-term impact from the Felixstowe strike.
The ports of Los Angeles and Long Beach seem to have pulled off the impossible. For the first time since the beginning of the pandemic only eight ships are waiting for berths as of last week. This, after what may have been the worst traffic jam in US supply chain history. Unfortunately, this seems to be a blip and not a trend—at least when you look at the number of container vessels waiting for berths across North America. There are about 130 ships waiting in total, with over 70% on the East Coast.
It looks like there will be further fallout thanks to the US retaliating against China for canceling flights from US carriers over COVID. The US shot back by suspending 26 flights to China in September. The result? Peak season could see a lot less transpacific capacity in the air cargo market even as demand is expected to increase later this month. So, be prepared for upward pressure on rates for many China/ US routes.
While the lack of ships waiting for berths on the west coast may not be signaling a new trend in that area, a trend is forming for long-term box rates. They are softening, following the spot rate market. Rates are still historically high however, with major carriers expecting another great year profit-wise. But many in the industry feel that a return to previous norms is coming.
In the face of out-of-control inflation in Europe, consumers aren't spending as they used to, leaving a glut of inventory packed in warehouses. The ripple effect of that is shippers delaying—and in some cases canceling—import orders. Orders they placed earlier than usual in the hope of offsetting the slow-moving supply chain.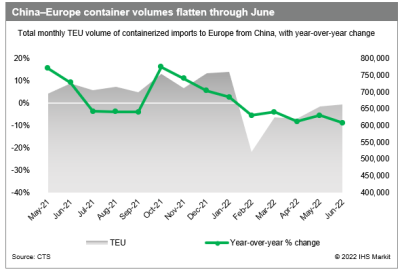 Manufacturers are unable to move finished products and post-production inventories in Europe have reached a record high for two months in a row.
And that's not all Europe is dealing with. The situation in Felixstowe is causing more pain. The strike there may be over, but it will be months before its impact wanes.
Most carriers avoided the port during the strike, resulting in a drop of 82% in ship calls for the week of August 15. Since those ships had to go somewhere else, other ports are dealing with high congestion and longer wait times. Ports in Germany, for example, are dealing with their own labor issues. Last week, wait times at Hamburg increased to 42 hours, and 18 ships were waiting for berths in Bremerhaven—which is about 63% above their annual average.
For the rest of the week's top shipping news, check out the article highlights below.