In this week's Roar: rising fuel, self-regulated AI, air cargo demand down, trade booming in Mexico, and a Notice of Proposed Rulemaking for rail.
Not all logistics costs are in decline. The cost of diesel for carriers in the U.S. is on the rise — and in some places significantly more than others. The average national price is up 4.8 cents for the week, putting it at $4.54 per gallon. But the futures price jumped out more than 25 cents. To give you an idea of the vastly divergent prices across the country, while some places actually saw declines of 0.2 cents, others saw gains of 16.9 cents — an increase of just over 2.5% — per gallon. As of September 11, the average price of diesel in California is more than $6 per gallon. In other words, it's a good time to check your fuel surcharge matrices.

Since OpenAI went mainstream with ChatGPT earlier this year, we've seen relentless reports of doom for much of the workforce. And the supply chain isn't exempt. A new book, The AI Dilemma: 7 Principles for Responsible Technology, explores the opinion that self-regulated AI could indeed create a dilemma for employees and society. The first principle it discusses is to "Be intentional about risk to humans." This means "…continually looking at ways to achieve twin goals: deploying technology to realize its potential and reducing the potential harm to the people or communities where the technology is deployed." With the increasing use of autonomous and AI-controlled vehicles in many parts of the supply chains, risk avoidance will be an important factor in its further deployment.
As this chart from JOC.com shows, a decrease in the average delay time in days shows that Trans-Pacific schedule reliability is trending upward for ocean freight.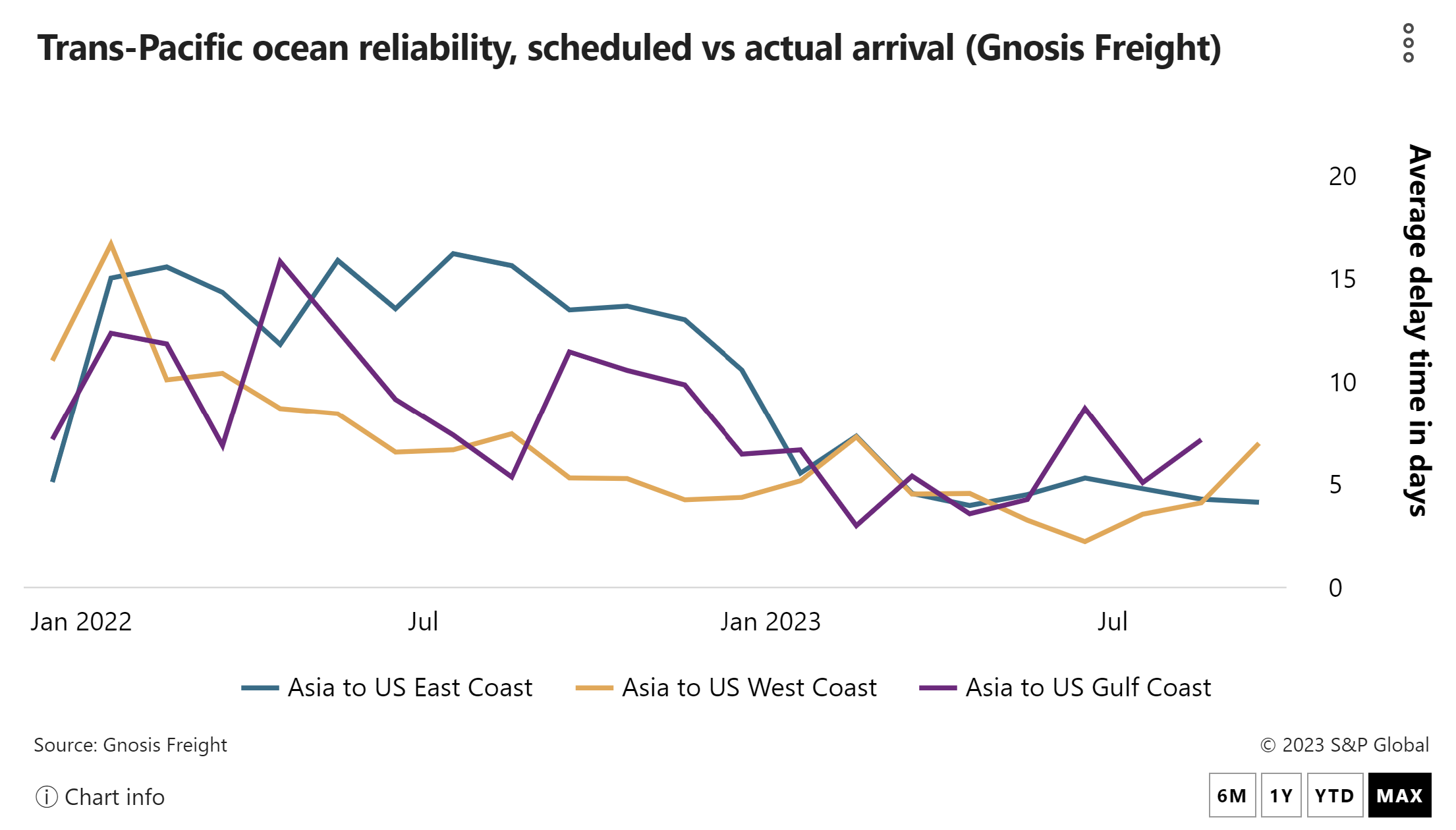 Air cargo demand remains flat. Spot rates are down to the lowest they've been since the beginning of the pandemic. CLIVE's global dynamic load factor analysis was up 1% in August to 56%, and global air cargo capacity was up 7% year-on-year for the same month. However, August's global load factor continues its year-on-year decline, ending up 3% down from August 2022. And there's little good news on the horizon foretelling any improvements.
Things are looking good for Mexico from a trade perspective. Thanks to the ongoing tensions between the U.S. and China, the country is experiencing a boom. In July, it nudged ahead of China to become the US's biggest trade partner. But will history repeat itself? Mexico has had several opportunities to take advantage of growth — and it's missed the mark in the past due to limitations such as lacking logistics infrastructure.
In rail shipping, U.S. regulators have released a Notice of Proposed Rulemaking (NRPM) that addresses operator performance and safety. In an effort to provide better carrier performance, they're hoping to give users access to reciprocal switching. The Surface Transportation Board (STB) has been hearing complaints from cargo owners about ongoing service problems and delays caused by rail carriers, and this is an effort to address those concerns. They state that the proposed rules will set "specific, objective, and measurable criteria when reciprocal switching is warranted." This will hopefully benefit both sides by providing shippers with predictability and carriers with a better sense of what's expected of them.
For the rest of the week's top shipping news, check out the article highlights below.