In this week's Roar: the weather story that won't go away, a U.S. rail update, a decline in Shipper Conditions and European air cargo, and thoughts on inventory optimization.
Shippers who move cargo through the Panama Canal can't catch a break. The drought and the restrictions that have followed are bad enough, but traffic through the Canal is backing up—and things are bound to get worse, as there's no rain in short-term forecasts.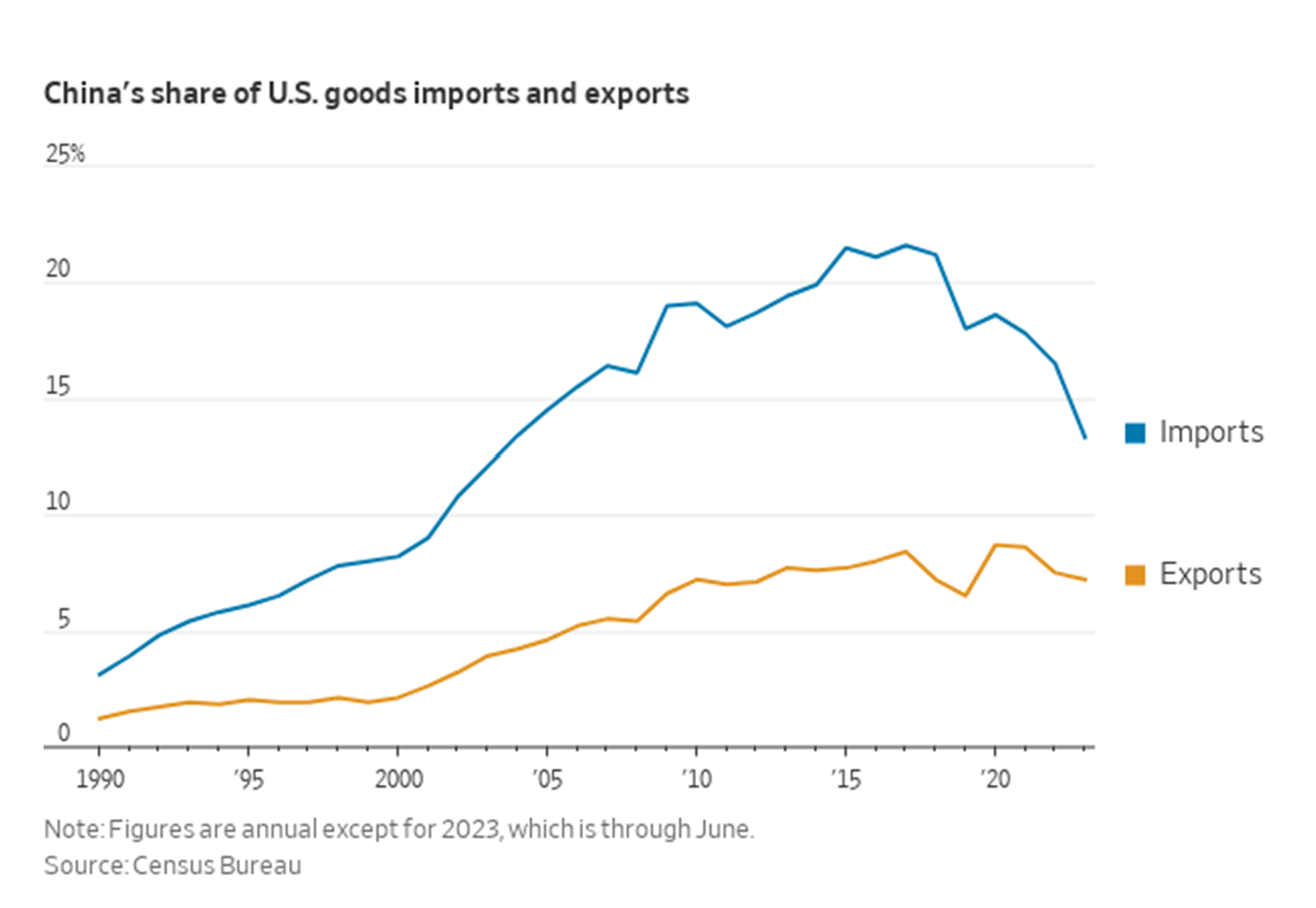 Just as things were looking up with trans-Pacific to U.S. East Coast volumes, weather is now impacting reliability. But, as Sea-Intelligence points out, the problems at the Canal may not be the only issue. "Since [the Schedule Reliability] peaked in April 2023 at 46.2%, in July, it is down to 38.8%. It should be kept in mind that there may be other contributing factors, and not solely a Panama Canal issue."
Speaking of trans-Pacific shipping, there's more evidence that sourcing habits are continuing to change by U.S. companies related to the share of goods imported from China, as this chart from joc.com shows.
Rail is dealing with its share of challenges right now, with North American volume tumbling in June. According to the U.S. Bureau of Transportation Statistics (BTS), whose most recent freight data is from June, the month saw a 4.6% year-over-year decrease when factoring in all modes of transportation, but rail alone dropped by 9.7%.
The FTR's Shippers Conditions Index (SCI) dropped from 8.6 in May to 7.9 in June, thanks to diesel prices trending up once again. And if the trend continues, expect SCI readings to continue to drop in tandem. However, the latest FTR Shippers Update lists another factor that could impact rates going forward—the demise of LTL carrier Yellow.
The air cargo sector is losing some of its loft, especially in Europe. Throughput is now well below that of pre-pandemic levels at some of the region's biggest hubs. A spokesperson for one airport operator states that "Like the whole industry, we are impacted by the continuing overall economic slowdown. This is clearly reflected in the cargo figures for July." Certainly, how well air cargo bounces back will depend on how well and how fast the economy recovers.
A question… just how optimized are companies' inventories? For many, there is room to reduce inventory by 50% or more by taking on this challenge. So what needs to be done? First, there needs to be a focus on what techniques are used—such as using data and inventory analytics in tandem with a live planning system. Doing so can make it possible to model different scenarios to foresee and forestall potential problems. Next, organizations need to pay equal attention to their people and their processes. And finally, recognize and address any organizational barriers inventory optimization may face. Make sure incentives are well aligned with whatever optimization you're planning.
For the rest of the week's top shipping news, check out the article highlights below.