In this week's Roar: what may be a futile attempt at keeping rates high, current supply chain trends, an update from China, emissions caps at ports, and what makes a sustainable supply chain.
Sometimes seeing the future doesn't require a crystal ball. Back in the spring, it was predicted that a U.S. rebound in containerized import volumes in the second half of the year would be unlikely. And, according to recent data from SONAR's Container Atlas, new bookings are down over 35% since the beginning of August. Right now, ocean carriers seem to be doing everything they can to bolster rates, including rejecting U.S.-bound containers. How does that help? By decreasing the number of incoming containers it leads to bottlenecks, which in turn increases the amount that are sitting waiting to depart. This creates an illusion that capacity is tightening with the intent of increasing rates.
There are supply chain trends and risks emerging that companies should be preparing for. Leading the list are issues like high interest rates, global turmoil, emissions reduction, and ongoing digital transformation. Potential strategies to prepare companies include freeing up working capital, supplier diversity, supply chain visibility, and optimized processes.
This chart shows a positive move in the Logistics Manager Index reported in August, the first increase in four months.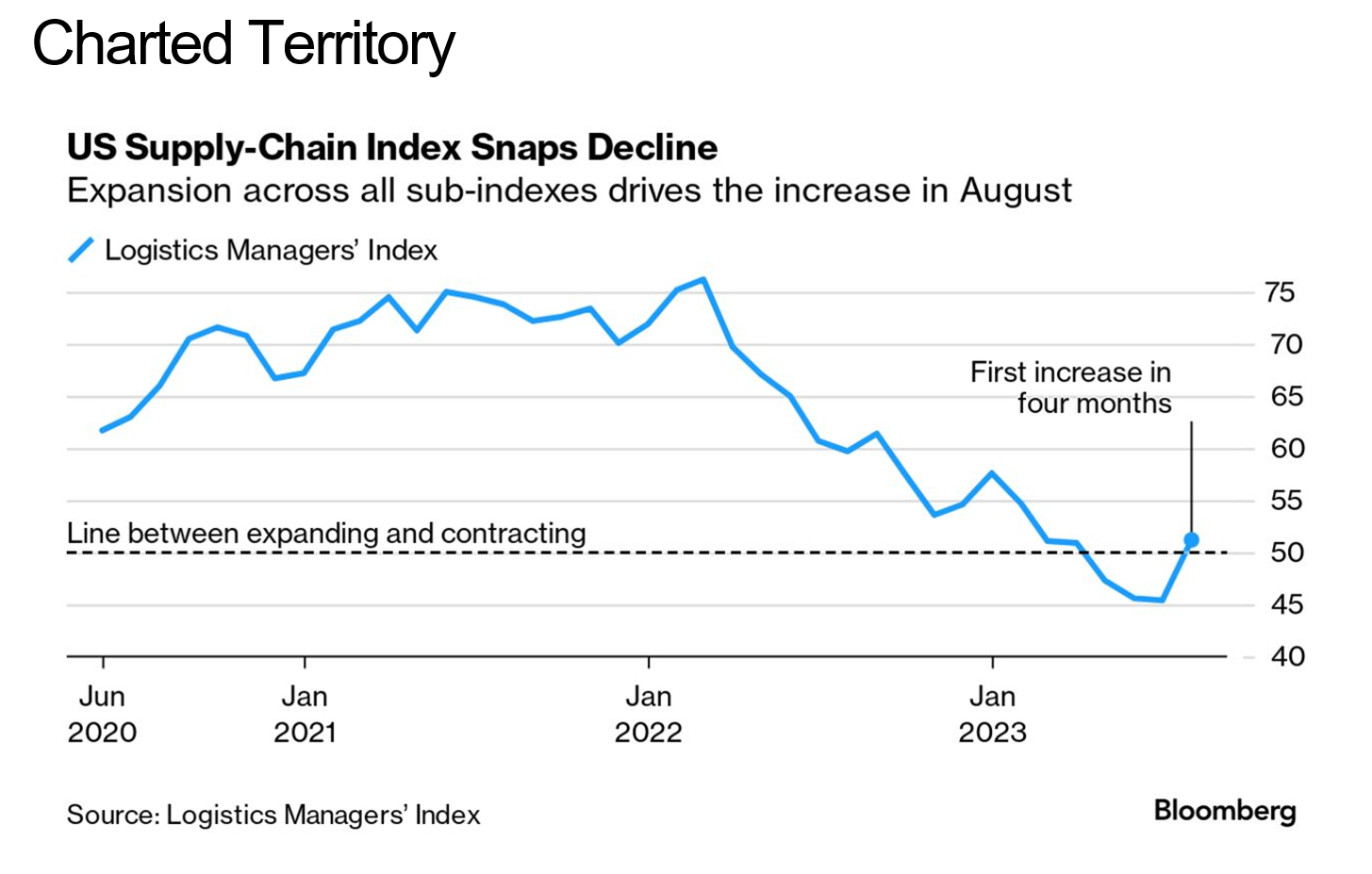 An important global economic bell-weather is China, and while its economy has been improving, its expansion is still "weak." The country's purchasing managers' index (PMI) and the Caixin/S&P Global — both manufacturing and non-manufacturing — saw increases in August after decreases in July. The official manufacturing purchasing managers' index (PMI) rose from 49.3 in July to 49.7 in August, which is a five-month high. And despite the increase, it's their fifth month in a row of contractions.
Just when you thought problems at the ports of Los Angeles and Long Beach were over, they find themselves in the crosshairs once again. The South Coast Air Quality Management District (AQMD) has a pending proposal to slash transport emissions — but the ports are saying doing so will cap cargo volumes and push discretionary cargo to other ports. The proposal, the Indirect Source Rule (ISR), is expected to be in place by December.
Ever wonder exactly what's included in a sustainable supply chain? Several possibilities are measuring CO2 emissions, water usage, and other critical resources. Next, it would help to have a better understanding of alternative power sources and how recycling flows and their impact on landfills. And finally, quantifying risk factors such as fair trade.
For the rest of the week's top shipping news, check out the article highlights below.