In this week's Roar: too much of a good thing when it comes to boxship deliveries, falling consumer demand, S. Africa takes its turn dealing with labor issues, debating the merits of vessel sharing, and global status report on ports.
A record number of boxship deliveries are expected for 2023 and 2024. And while that might seem like good news, Alphaliner has a warning.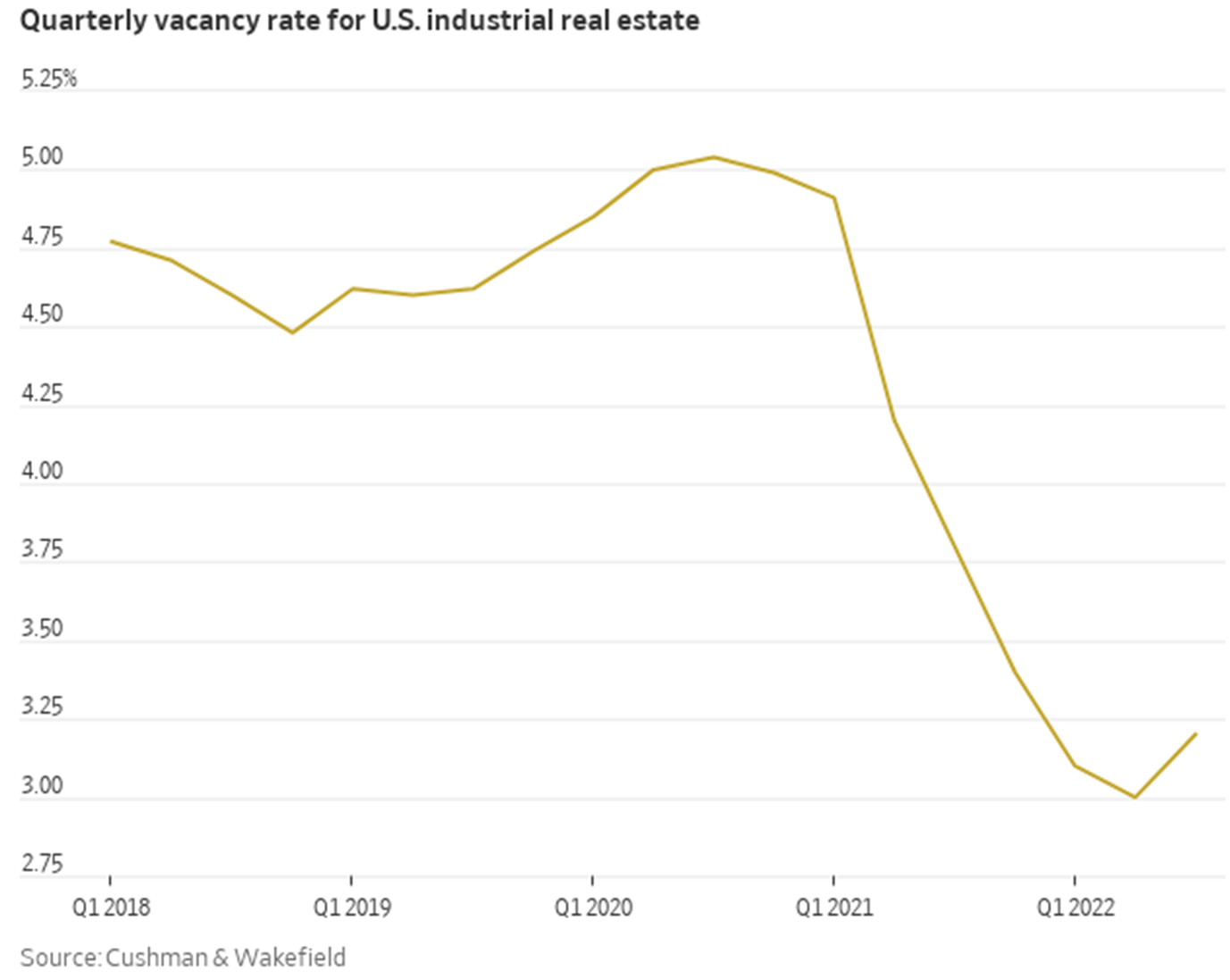 That huge orderbook could mean that tonnage supply will outstrip vessel demand, pushing the market towards structural overcapacity. The economy, war risks, energy costs, political issues, and a return to travel at the cost of shopping all played a role in the slump of 2022's peak season. But the expectation is that "a huge number of new large containerships are going to hit the water in 2023 at a time of stagnating demand."
With regards to the current slump, logistics managers have told CNBC that they've seen a 20% drop in ocean freight orders across September and October. There is a drop in demand across many sectors, including machinery, housing, industrial, and apparel. The CEO of United National Consumer Suppliers points out that many consumers are shifting to off-price products—think T.J. Maxx and Marshalls—while inventory remains high at bigger, prestigious brands.
And, as the chart shows, the high inventory levels are keeping warehouse vacancy rates low in the US.
Labor strife has made its way to South Africa. Disagreement over wage increases between two unions representing rail and port workers and government run Transnet has led to work stoppages, which started last week. Noteworthy is that Transnet has implemented a new Terminal Handling Charge (THC) effective October 1 that is contingent on the strike being avoided. Transnet says the THC will be "allocated to labour in order to incentivise and contribute to their wage increase at this critical time during the current wage negotiation process."
Moving to Europe, the European Commission (EC) is considering whether to extend the Consortia Block Exemption Regulation (CBER), which is slated to expire on April 25, 2024. The CBER allows for vessel-sharing, which has been a contentious issue between shipping lines and customers. Liners want it renewed but their customers don't agree.
And finally, typhoons in the east have impacted ports in China and South Korea, pushing up congestion levels—to an extent that's even higher than was seen during the pandemic. Qingdao, Busan, Ningbo, and Shanghai all saw transit times increase by at least 25% in September, with Qingdao experiencing a 59% increase. On the flip side, US West Coast ports are in their second month of decreased congestion.
For the rest of the week's top shipping news, check out the article highlights below.