In this week's Roar: lower rates putting the pinch on carriers, blank sailings on the rise, on-again off-again labor trouble on US rails and at the Port of Liverpool, and growing concerns over maritime cyber security.
It's no secret that rates for containers from Asia are tanking as many services on the transpacific continue to be canceled. But the question on a lot of minds is how low will they go before setting a new normal? Carriers who were riding high not that long ago are feeling the pinch, and those that entered the market when it was all smooth sailing are going to have a tough time making it through. The point? Be careful which carriers you are working because this may not end well for some carriers. It is not a good time to be chasing too-good-to-be-true rates.
There had been hopes that blanked sailings would turn the tide a bit—at least in terms of pulling back on rates diving—but that doesn't seem to have happened. This chart shows rates and blank sailings began taking separate paths a few months ago and the trend is continuing.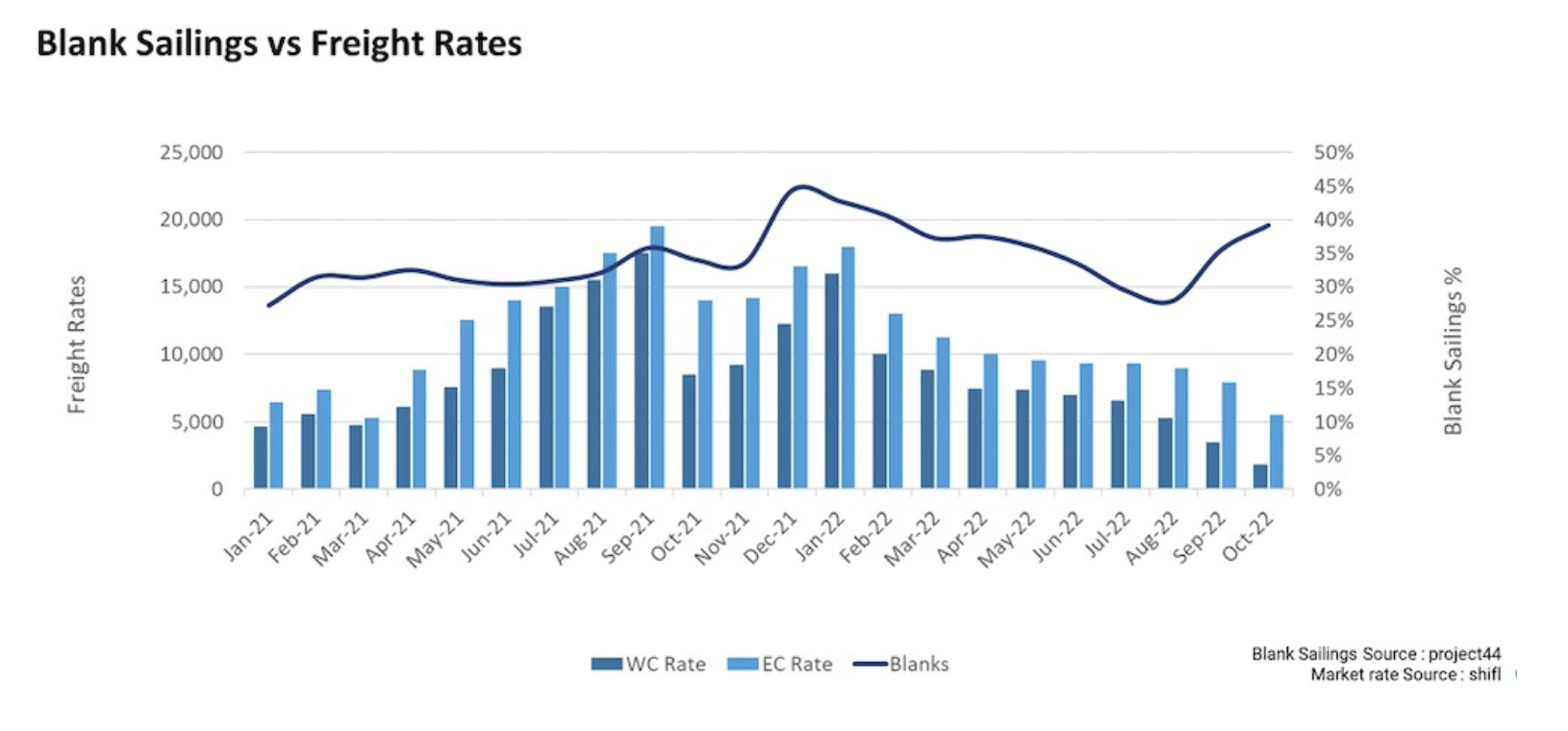 And it's not just container ships that are dealing with the fallout of a drop in demand. Asia Pacific airlines are also dealing with a drop of more than 10% year-on-year in demand in September. A drop in consumer confidence at home is to blame for both sea and air carriers.
At the same time, labor issues continue to intensify. This week saw increased uncertainty in the US thanks to the railroad rejecting the union's demands around sick leave. During initial negotiations, the union requested 15 days of sick leave but was rejected. This time around they pressed for 7 days and were again rejected. We'll all have to wait and see where things go from here, although Union Pacific has some positive thoughts to share. CEO Lance Fritz says he's "confident that we're going to get our temporary agreements ratified and be able to avoid a strike."
Still on the subject of strikes, and a problem that just won't go away, the Port of Liverpool is into their third strike after their latest round of negotiations collapsed. 600 port workers started a two-week strike on the 24th. Part of the focus this time around is the recent threat of 132 job cuts. Not surprisingly, the impact of the strike will create additional congestion at ports across Europe.
Finally, cyber security is becoming more of an issue in the maritime industry. And according to Daniel Ng, the CEO of CyberOwl, most threats are in the form of small ransomware attacks. Small, but costly attacks that can hit onshore infrastructure and create vessel delays at port. And then there's the cleanup—stopping the spread of an attack, restoring and rebooting, and collecting evidence. Evidence that can help understand what allowed the attack. Where were the vulnerabilities?
For the rest of the week's top shipping news, check out the article highlights below.