In this week's Roar: the strike that wasn't may now be, another work stoppage in the UK, more suspended services by ocean carriers, coal in the stocking for retailers, and energy prices dragging down global production.
Just when you thought the threat had passed—it's back! That would be the rail strike that was averted—but not—last month. The risk is back, thanks to a majority vote rejecting a tentative agreement partially brokered by the President. For now, the union and railroads are back at the bargaining table, and no strike action can be taken until November 19.
This is in addition to the ongoing labor issues in South Africa and other places where they keep re-appearing. In the UK, dockworkers at the Port of Liverpool began another strike on October 11, and it will run until the 17th. Union officials say that instead of establishing "sensible negotiations," the Port operator would rather try to intimidate "its workers." This is likely in reference to an announcement warning of job losses due to redundancies.

From rail to the ocean, carriers have suspended even more services on the Asia-North Europe route as the high tide of global demand washes away. Maersk issued a customer advisory that states, in part, "As a consequence of the forecasted reductions in global demand, Maersk is looking to balance the network accordingly." However, they also make it clear that their "overall goal remains to provide our customers with predictability and to ensure minimal disruption to their supply chains by supplying alternative routings and coverage for the affected vessel positions." It's a bit of a tricky situation though since they need to maintain the agreed-upon minimum service levels they've contracted for. And as this graphic from wsj.com illustrates, US import volumes are also showing steep declines.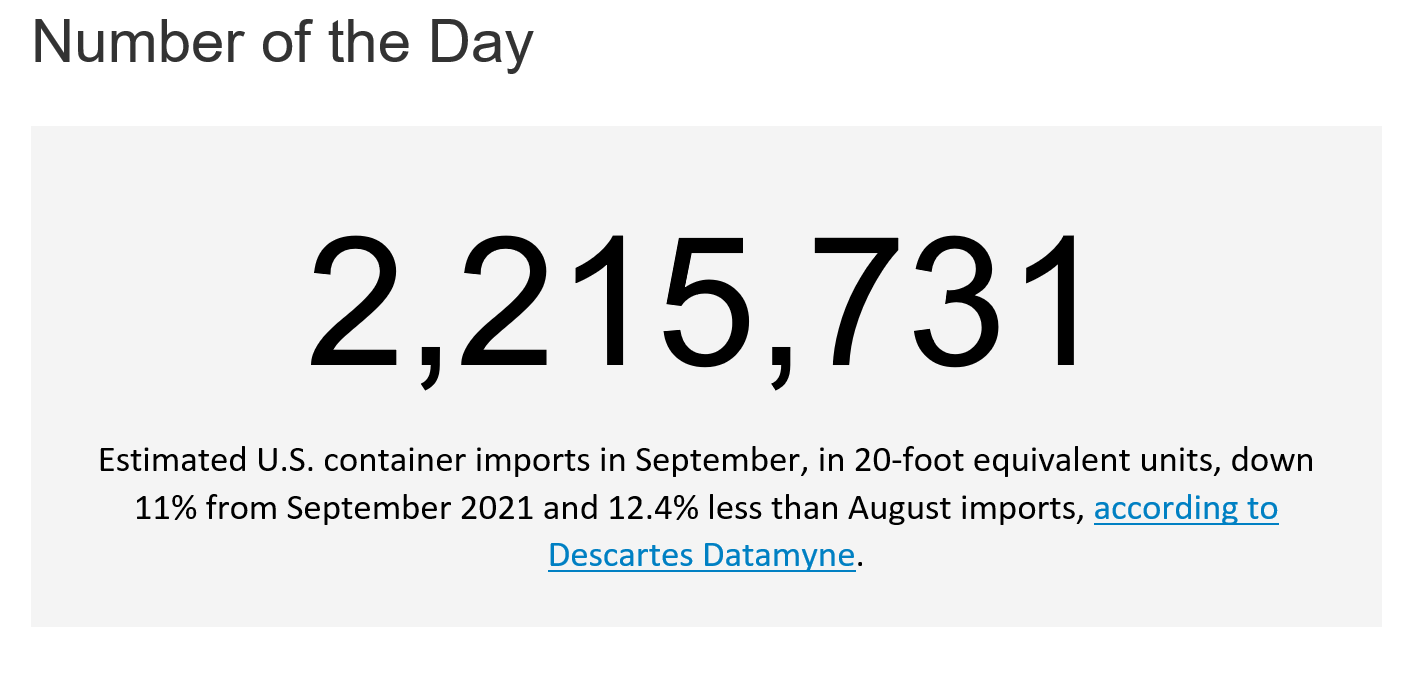 In the US, things aren't looking too merry as we head into the holiday shopping season. Retailers are still stuck with summer stock, and we have an unstable supply chain thanks to ongoing labor issues, severe weather events, geo-political problems, lingering COVID-19 chaos, and more. So what's the potential fallout for holiday shoppers?
Thankfully, it's not all bad news. Some retailers may try to offload inventory at great deals instead of paying to store it. But for items facing supply chain delays, the cost will start to rise, or else they will sell out too fast—leaving retailers with nothing. Another problem may be retailers pushing online shoppers to pick up in-store instead of getting a delivery—something that is already starting to happen.
And finally, higher energy prices are increasing the pressure on the worldwide factory sector. According to the PMI, for the first time in five months, September saw average input costs rising at a faster rate. Data shows that while supply chain and wage price pressures have calmed down, energy cost increases are at an all-time high. The number of companies reporting increased costs due to energy prices is 4.7 times higher than the longest-run average.
For the rest of the week's top shipping news, check out the article highlights below.