In this week's Roar: negotiations slow on the US West Coast, questioning freight indices, ocean carriers culling capacity, COVID and China, and delivering on seafarers' rights.
As if there weren't enough problems with the negotiations between US West Coast ports and the union representing their dockworkers, there's a new disagreement. Last week, Mediterranean Shipping Co. filed a motion with the National Labor Relations Board, pushing for SSA Marine to assign tasks at Seattle's Terminal 5 to the ILWU. In other words, the issue of who has control of which jobs dockworkers perform has become a sticking point. Recently, the ILWU accused the SSA of violating "the very provision of the contract over which the parties were bargaining."
While talks between port operators and unions remain contentious, it's confusion that reigns amongst shippers—at least in terms of ocean freight indexes. Over the past several years, there's been a growing number of ocean freight rate indexes (there are five according the JOC's Eric Johnson). If the purpose of these was to bring clarity to buyers, it's done the opposite. Many shippers have told JOC.com that confusion surrounding them has made the indexes less useful instead of more helpful. Traditionally, logistics managers have monitored rate indexes, but the chaos of the last several years has raised market consciousness and caught the attention of executives. This chart illustrates how aligned AND unaligned the indices can be.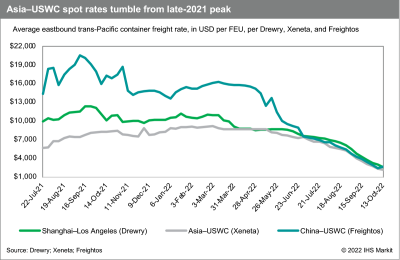 Carriers continue to pull capacity to stem the downward trend in rates. It doesn't appear to be working, however. The reason seems to be that the drastic drop in demand from China has nullified much of the impact of carriers lowering capacity. There's also hesitation from carriers' perspectives out of a fear that cutting too much capacity, too quickly, could cost them market share.
Manufacturing in China has slipped for the third month in a row thanks to its zero-COVID policy. A senior economist at Caixin Insight Group said that "manufacturing activity was still way down by COVID-19 outbreaks," and added that "both output and new orders saw further declines." In the past week Foxconn, an Apple supplier that employs 200,000 workers across a Zhengzhou complex called iPhone city, had workers fleeing to escape restrictions.
Finally, the Delivering On Seafarers' Rights progress report was published, thanks to the Sustainable Shipping Initiative. This is a progress report based on an October 2021 Code of Conduct and self-assessment questionnaire that looks into the rights and welfare of seafarers, with the hope of identifying areas where work is needed. There is work to be done according to the report. "The pandemic has reaffirmed our view that seafarers are still misunderstood by the world, and that in most capitals, they remain a low to non-existent priority."
For the rest of the week's top shipping news, check out the article highlights below.