In this week's Roar: balancing ocean demand and capacity, back to zero in LA/ LB, who benefits from a rail strike when and if it happens, and the biggest risk at sea.
Ocean carriers allocate capacity based on demand. So what happens when there's little to no demand? The answer to that is happening right now—carriers are ramping up on blank sailings. That's bad news but it gets even worse. They forecast that there will be even more reductions in the near future. The lack of demand—at least to some extent—is due to cargo getting moved away from the West Coast, and a peak season that failed to peak.
And speaking of the West Coast, the Marine Exchange of Southern California declared that the backlog at the ports of Long Beach and Los Angeles have been cleared to zero ships. The backlog started more than two years ago, in October 2020, and peaked in January of this year. And the reason why they've been able to clear the backlog? The same reason for the blank sailings mentioned above. The downward trend in demand—at least in part.
This chart from JOC.com illustrates how far things have come at LA-LB just this year: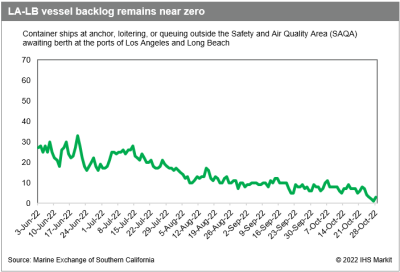 Moving to air cargo news, officials in the industry would love to have to deal with the fallout of a rail strike, but they don't think a strike will happen. Besides, should it happen, it might not lead to much of a boon for the air cargo industry. Instead, there's a better chance it would be the trucking industry that benefited.
And, the chances of a rail strike that no one really wants to happen are getting riskier. The Surface and Transportation Board has requested Union Pacific management to appear before a hearing scheduled for December 13 and 14—four days past the potential start date of a strike. The hearing is to address Union Pacific's use of embargos to control congestion.
Finally, we have an upward trend. But it's not a good one. According to Allianz Global Corporate & Specialty (AGCS), a marine and cargo insurer, "The number of fires onboard large vessels has increased significantly in recent years, with a string of incidents involving cargo, which can easily lead to the total loss of a vessel or environmental damage." 18% of marine claims are due to fire an increase from 13% over a 5-year period from 2013 to 2018.

For the rest of the week's top shipping news, check out the article highlights below.